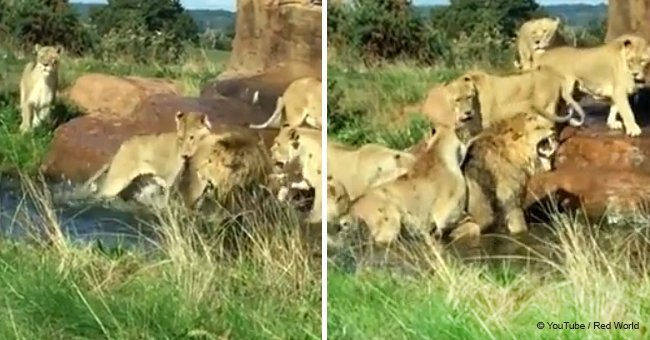 Pride of lionesses launch a brutal attack in front of visitors at the West Midlands Safari Park
In what proved to be heart-wrenching footage to look at, nine female lionesses launched a brutal attack on the pack leader.
They sunk their teeth into him and tore at his fur after they pounced on him at the West Midlands Safari Park.
The attack, which occurred on Wednesday, was a determined effort on the part of the lionesses to kill off the male leader of the pride.
On seeing the lionesses pouncing on the male, safari workers stepped in armed with fire extinguishers which they used to spray at the female beasts and break up the ferocious attack.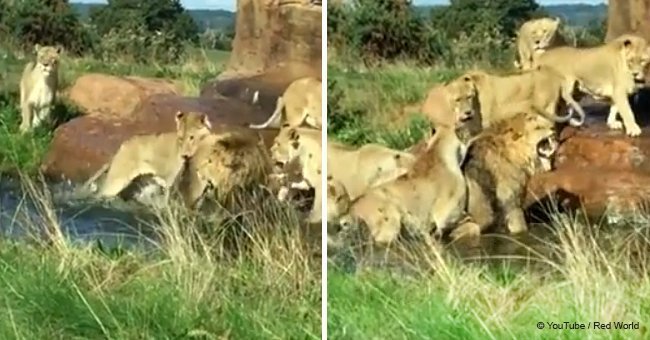 Source: YouTube/Red World
The attack left the male bloodied and battered. Read more on our Twitter account, @amomama_usa.
The incident was captured on camera by Mya Beverstock, a 19-year-old amateur photographer who had visited the park in Bewdley, Worcestershire, with her parents.
Beverstock told Daily Mail that the Safari workers reacted quickly and sent three jeeps to the enclosure in an attempt to break up the attack. She added:
"One of the jeeps sprayed them with a fire extinguisher which ended up mostly breaking up the fight."
The incident happened in full view of visitors at the park and took place at around feeding time.
Following the attack, the females were removed from the enclosure. This left the enclosure with just the battered male and two other males.
"We did go around the park again afterwards and all the female lions had been removed from the enclosure and it was only the three males in there," she said.
Earlier this year a pride of lions charged towards a car at the same safari park and the gates were closed by rangers who tried to deal with the enraged animals.
The occupants of the car remained trapped inside for nearly an hour while lions leaped onto the bonnet and roof of the car, leaving a severe dent.
Please fill in your e-mail so we can share with you our top stories!