Unsuspecting package thief triggers homeowner's 12-guage shotgun shell boobytrap (video)
Sick and tired of porch thieves making off with this packages this Tacoma, Washington man decided to create a device that would deter porch thieves the next time they tried to attempt to steal from him.
While for many the thought of having to deal with "porch pirates" can be a scary reality more so it can be highly stressful. Jaireme Barrow decided that enough was enough. 
Barrow's anti-theft device is booby-trap which he calls "The Blank Box". "The Blank Box" is a decoy device used to scare thieves using a loud but harmless explosion.  When someone tries to take the box it triggers a blank shell from a 12-gauge shotgun.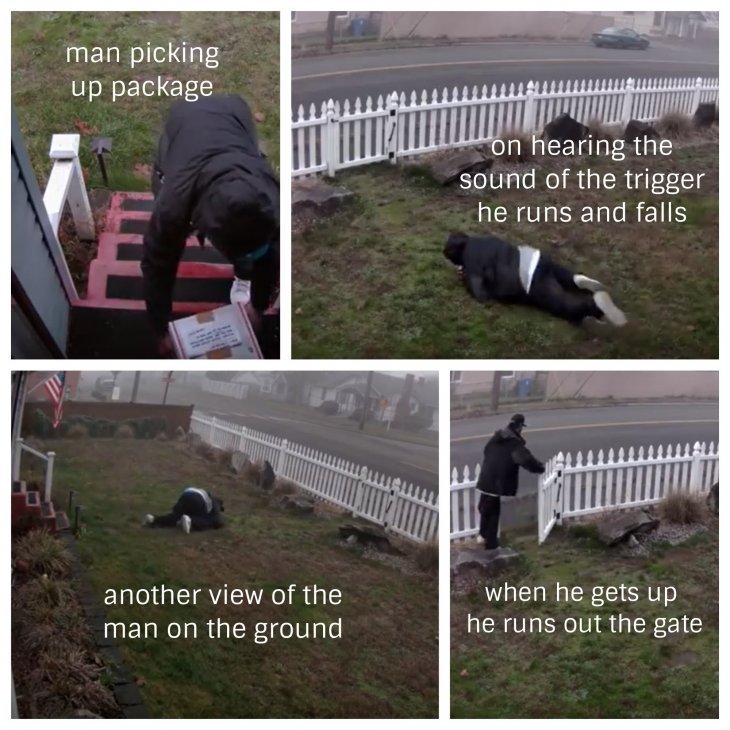 "We were tired of watching people run off with our packages and wanted a way to prank a porch pirate! This is how TheBlankBox was born. TheBlankBox is a safe and effective way to deter someone from stealing from you, plus it makes for some entertaining video!"
                                             Jaireme Barrow, TheBlankBox
"TheBlankBox or TheBlankTrigger will solve your problem and give you a good laugh."
                                             Jaireme Barrow, TheBlankBox
Generally, "TheBlankBox" has received positive reviews. Oregon resident Scott Swearington was one of them.
"INGENIOUS!!! I live in an area where I have no worries of possibilities of lowlifes attempting to steal packages from my property. I just recently ordered a blankbox for placing in the back of my GMC Caballero (El Camino). While parking in various parking lots I will strategically position my gopro camera facing this thief-thwarting device and begin amassing some comical vids. Thank you so much for coming up with such an ingenious and creative mechanism."
                                              Scott Swearington, Facebook, December 23, 2017
Not surprisingly many may try to create a device of their own after seeing what "TheBlankBox" can do.  However they must take into consideration that if they rig a package like this, and it injures a thief, the end result is that they could be held liable.
At present Barrow has a YouTube channel of his own as well as a channel called TheBlankBox which has over 3,000 subscribers.