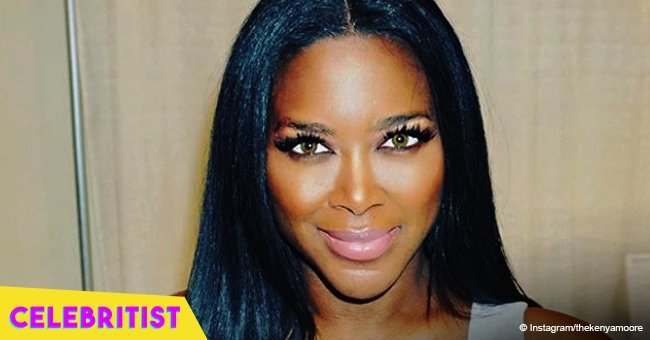 Kenya Moore is an excited mom-to-be as she cradles a baby in old pic
Aww! Former "Real Housewives of Atlanta" (RHOA) star, Kenya Moore, cannot wait to meet her little one. The mom-to-be shared a throwback photo of herself cradling a baby and let us know how she feels about welcoming her own.
Despite rumors debating the authenticity of her pregnancy, Moore continues to bask in her pre-motherhood glow, expressing just how much she can't wait to hold her baby. She was pictured all-smiles in the vintage shot as she held a baby firmly in the crook of her arm.
Along with a heart emoji, the former beauty queen wrote:
"#TBT. Time flys! [sic] Holding my cousin. Pretty soon I'll be holding my own little bundle of joy"
THERE'S NO MESSING WITH MOORE
Moore recently fired back at trolls who have been saying her baby bump is too small to be real. Taking time to school the naysayers, Moore detailed:
"Is my bump too small? Having a small bump is no picnic either because people will want to comment on that just as much. From jaws hitting the ground when you say your due date (followed by "oh my, but your bump is so tiny,"), to questions from friends and family about whether you're eating correctly."
She went on to offer some reassurance to other women in her shoes:
"The critical thing to remember is that there is no right size for your bump. All women, and all pregnancies are unique. Bump size can be influenced by lots of factors, including: the number of pregnancies – first pregnancies tend to be smaller bumps because tummy muscles are tighter the number of babies – women carrying multiples often have bigger bumps."
WHAT WAS MORE IMPORTANT THAN RHOA?
The reality star came under scrutiny in July after it was revealed she would not be on season 11 of RHOA. Last year, Moore displeased the show's producers by keeping much of her private life away from the cameras. She refused to compromise her stand in contract negotiations for the eleventh season and chose to exit the show.
A source told People that Moore was more focused on making a family with her husband, Marc Daly:
"Marc isn't comfortable being on camera, and Kenya respects that. Relationships go both ways and she respects her husband. He loves her. They're having a baby. That's the priority — not fighting with some women for ratings."
Meanwhile, Moore, 47, has been living her best life, as can be seen from her Instagram account. Last month, she shared photos of the flowers Daly sent to her "just because" as well as a 4D ultrasound video of their unborn child "moving its little arms and legs."
Please fill in your e-mail so we can share with you our top stories!