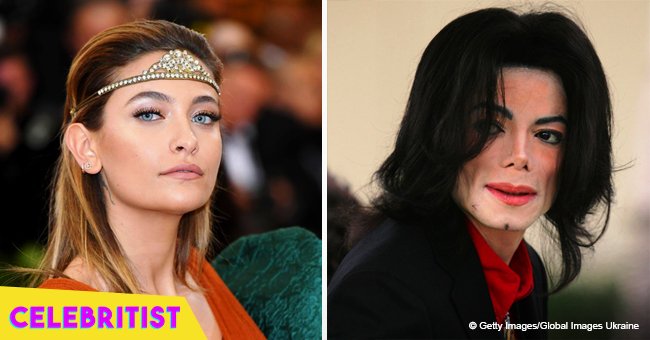 Paris Jackson calls out paparazzi after being compared to her to famous dad

Paris Jackson is furious at the paparazzi who yelled at her in New York City who went so far as to compare her to her late father, Michael Jackson.
The 20-year-old model and daughter of the late King of Pop attended the Tom Ford New York Fashion Week show last Wednesday night, where she happily posed for photos inside the venue. Outside the show, however, she chose not to be photographed, and the paparazzi yelled at her because they couldn't get a clear shot of her face.
Jackson called out the photographers on Twitter after the incident, narrating what had happened to her more than 1 million followers.
In her tweet, she said:
"i just got yelled at in a really mean way outside the tom ford show because paparazzi didn't get a chance to shoot my face. (for those of you that don't know, paps don't get paid unless my face is in the shot.)."

Source: Twitter
When she wouldn't give them what they wanted, some of them screamed that Michael "would have never done that", but in fact, she knew that her father did.
Before the legendary singer passed away in June 2009, he would head out wearing disguises, and he would do so for his children as well just so their faces wouldn't be photographed.
Paris retweeted a post of a fan that said Michael would even disguise Paris' face and her brothers' with veils just so the paparazzi won't get to exploit them for money. She also retweeted someone else who said that Michael and his children would sometimes even wear masks just to stop being photographed.
Helping Paris defend herself, fans even shared throwback photos of the "Billy Jean" singer in disguises and with his face fully covered.
Later that evening, Paris warmed up to the cameras by posing for photos inside the show, sitting alongside other A-listers in the front row such as Tom Hanks, Rita Wilson, Cardi B, and "Crazy Rich Asians" lead Henry Golding.
Paris has been very particular about the shows she attends after she walked out of a Dior fashion show last May 2018. When people started speculating about why she just suddenly stormed out of the show, she defended herself on Twitter saying she does not support animals being branded and whipped.
While she didn't want to be enemies with the fashion world, she stood firm in saying that she was always going to be herself.
You do you, Paris!
Please fill in your e-mail so we can share with you our top stories!