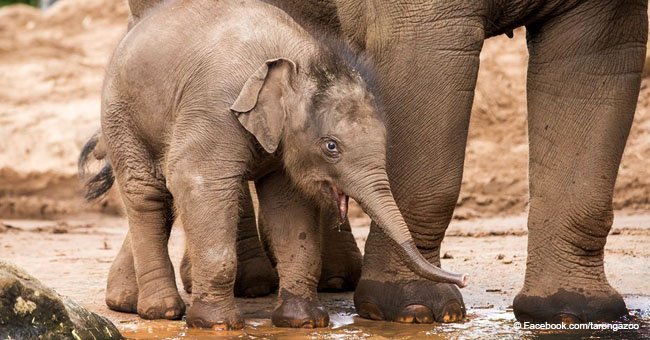 Zoo staff devastated by the sudden death of one of their endangered baby elephants

Australian zoo loses a baby elephant to the herpes virus
Sydney's Taronga Zoo has been fighting to preserve the endangered Asia Elephants, but on the 4th of September, they suffered a tragic set back.
Tukta, an 8-year-old female born in the zoo started to show some signs of being unwell just two days before she died, revealed the zoo in a Facebook post.
The young elephant appeared "lethargic and off her food" and the Taronga Zoo veterinary team started treating her for a suspected case of Elephant Endotheliotropic Herpesvirus (EEHV).
This is a type of herpesvirus, which can cause a highly fatal hemorrhagic disease when transmitted to young Asian elephants.
"Despite the swift action of everyone involved, she tragically lost her fight against the virus later that afternoon."
Cameron Kerr, Facebook, 4th of September 2018.
This disease has a high fatality rate in Asian elephants, killing up to 80% of infected individuals. Though the disease can be treated with antiviral drugs, the treatment is only successful in 30% of the cases.
Sadly, Tukta succumbed to the disease despite the veterinarian team's best efforts. Cameron Kerr, CEO, and director of the Taronga Zoo stated that the young elephant's sudden death had left staff members and volunteers grief-stricken.
Read more about Tukta on our Twitter account @amomama_usa.
Staff at the zoo noticed Tukta appeared lethargic before an emergency treatment for Elephant Endotheliotropic Herpes began. (AAP)
Tukta's death is a setback for the zoo's contribution to the Australasian regional breeding program for Asian Elephants.
Since the zoo joined the program, six elephant calves have been born at Taronga and Tukta was the third. Tukta is survived by her mother Pak Boon, brother Jai Dee and aunt Tang Mo.
Elephant endotheliotropic herpesvirus, which is so virulent in Asian Elephants, is a benign condition in African Elephants, only occasionally causing small growths or lesions on the animals' skin.
Please fill in your e-mail so we can share with you our top stories!