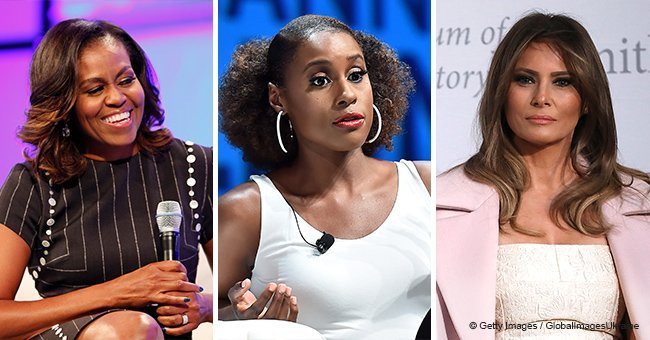 Actress threatens to cancel her TV programme if Melania Trump becomes a fan of it
Actress Issa Rae boldly said that she was going to cancel her TV program if the First Lady, Melania Trump, ever liked it.
During a recent interview with Glamour, Rae – who is also a producer and director – expressed that she was pleased that former First Lady Michelle Obama was a fan of her show.
Although, she said she wouldn't feel the same way if it were Trump.
The show called "Insecure" was said to have been praised by Obama, as claimed by Rae.
Follow us on Twitter at AmoMama USA for more details and updates.
Speaking about her chat with Obama, Rae said, "She had just finished watching the finale, and she was like, 'That fakeout — how could you do that? I thought you and Lawrence were going to live happily ever after.'"
"It was like talking to my auntie. It bums me out that I will never have that feeling again of the first family [expletive] with us so hard and getting us," the star continued.
Following that, Rae blatantly said that she wouldn't feel as great as she did if Trump were to say the same things Obama said.
She went as far as saying that she would stop making the show.
"If Melania [Trump] said that to me, I would be like, well, I guess it's canceled. We're not making this show. It's not ours anymore," she said.
Later on, less than a day after, Trump responded to Rae's comments through a statement released by her spokeswoman, Stephanie Grisham.
Via Twitter, Grisham informed Rae that the First Lady of the United States is a fan of her show.
Even with Trump's statement, the show remains on-air, and Rae is yet to respond.
"Insecure" – an American comedy – tackles various social and racial issues. It is a three-part series and features the lives of two black women named Issa and Molly.
Since it first premiered, the show had garnered several awards.
As for Trump, she may be one of the most controversial first ladies in history. It seems that people always find something to talk about her.
Recently, Trump came under fire when she wore a $4,000 skirt to plant trees and do her gardening.
Please fill in your e-mail so we can share with you our top stories!