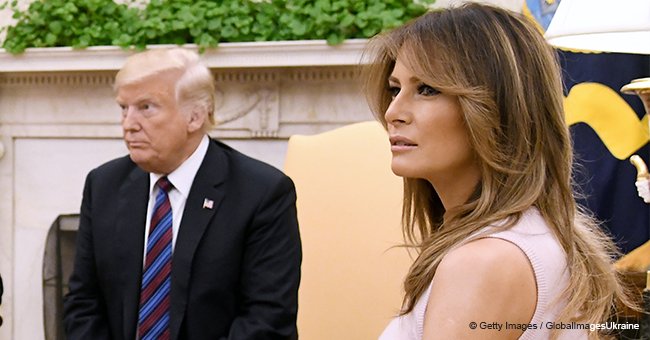 Melania Trump wears $4,000 skirt to plant trees and do gardening
On Tuesday, First Lady Melania Trump got involved in a tree planting initiative. She helped plant an Eisenhower-era oak sapling in the White House grounds.
What got people's attention, as usual, was her choice of clothing. She chose to wear heels to work around the soil with previous first family descendants.
Most people would wear sensible shoes to a tree planting ceremony, but not Melania Trump. The First Lady chose to wear 4inch Christian Louboutin stilettos to aerate the soil.
The heels were accompanied by a $4,000 floral Valentino skirt and a sleeveless top that matched her shoes. In her hand, she held a gold-tipped ceremonial spade.
For more on this story go to our Twitter account @amomama_usa. A gardening expert named Alys Fowler shared his thoughts about the ceremony.
"Actually, that's not a spade, it's a shovel," said Fowler. "I suspect she was given that in recognition of the fact that she was never going to put her foot on it in those shoes," the expert added.
It was an interesting choice for her to go for stilettos while gardening as they are known to sink in mud. However, she wasn't the only who wore inappropriate clothing for the ceremony as the people she was with were dressed quite formally.
It's reported that the First Lady dressed the way she did knowing she wouldn't lift or plant anything. She's said to have sprinkled a couple of teaspoons' worth of soil into the hole.
One of her Twitter pictures shows her lifting some soil into the whole. As for that skirt, Fowler thought, "There is nothing wrong with wearing a skirt to garden in."
He actually thought they were quite free-moving and comfortable. The expert shared that it would be wise to wear what feels good to you as long as it doesn't deter the process.
It's not the first time that Trump has gardened in clothes that had people questioning her thinking. She once wore a plaid shirt and Converse sneakers.
People laughed at the fact that the sneakers looked fresh from the box. Perhaps that's why this time she chose to stick with what she knows.
Please fill in your e-mail so we can share with you our top stories!