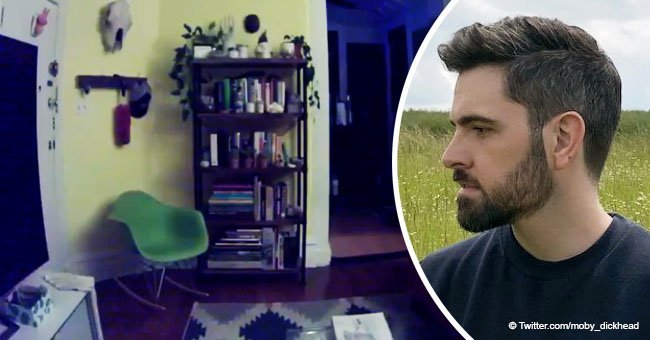 Man claims he's being haunted by the ghost of a kid who wants to kill him

Adam Ellis, a social media celebrity, claims that the ghost of a little boy named 'Dear David' has been haunting him and trying to kill him.
Ellis has been very adamant when it comes to the veracity of the story and says that he never tried to convince anyone of whether the story was real or not, even though he believes that it is.
According to The Wrap, the former Buzzfeed employee has captured evidence of the spirit, including pictures and a video that can be found on his Twitter account or below.
Ellis caught the attention of the online community when he started tweeting about Dear David, the little boy who has been spending time inside the cartoonist's apartment.
Follow us on our Twitter account @amomama_usa to learn more.
AN UPCOMING MOVIE ABOUT IT
It has been reported by the source that Dan Lin, the producer of 'It, will be producing a Dear David film alongside screenwriter Mike Van Waes, who has worked on "The Crooked Man," a "The Conjuring" spin-off.
The news has been confirmed by Ellis in early June but, so far, little is known about the project other than it will revolve around the spirit.
PORTRAIT OF DEAR DAVID
Ellis explained that he has experienced sleep paralysis on several occasions and that he started seeing a child sitting on a green rocking chair at the end of his bed.
Being a cartoonist, Ellis did his best to draw Dear David, who, according to him, is missing a great part of his head. Ellis says that, initially, the spirit didn't do anything other than stare at him but that soon changed.
THE ATTACK
One night, Dear David got up from the chair and 'started shambling toward the bed,' and the next thing that Ellis remembers is waking up screaming.
At one point, in order to prove that he wasn't seeing things, he posted a video of a green chair moving on its own, as if someone was sitting there and rocking it.
CREEPY OCCURRENCES
From plants falling off shelves to his cats staring at his closed bedroom door, Ellis says that there has been quite some activity, although it has diminished over time. Whether the story is true or not, Ellis really seems to believe in it.
Recently, paranormal activity has also been taking place at an Irish school and the CCTV footage has ended up online, frightening viewers all around the world.
Please fill in your e-mail so we can share with you our top stories!