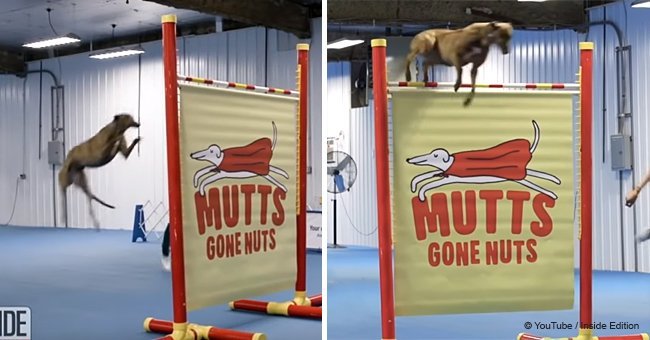 Feather looks like an ordinary dog, but she breaks World Records with her unique skill

Samantha Valle is a Maryland resident who owns two remarkable dogs. Feather and Geronimo have each set World Records with their unique skills.
Valle holds a special place in her heart for rescue dogs. She uses her time and energy to make them into their ideal doggie selves.
In a YouTube video found below, she said to Inside:
"I feel like people have a lot of misconceptions about rescue dogs... but I really enjoy taking someone's throwaway animals and making them into something great."
Follow us on Twitter for more @amomama_usa.
Valle's efforts have allowed her and two special dogs to achieve Guinness World Records titles. She told Inside that the training came "naturally" and "right away."
2-year-old Feather, a female greyhound, earned the title for Highest Jump by a Dog. His record is an astounding 191.7 cm (75.5 in).
2-year-old Geronimo, a female Border Collie and Kelpie cross, earned the title for "Most Double Dutch-style Skips by a Dog" in one minute with 128 skips.
Speaking about her and her dogs' achievements, Valle said:
"Real proud moment. It's really weird to look into the book and see my name listed. I have that now, and that's awesome."
Valle had noticed that the dogs really enjoyed the challenging tasks early on in her training. Their willpower and desire to please reflected in their own efforts.
But back in April 2018, another dog had to go through a life-threatening experience to prove his loyalty to his owners.
Haus, a 2-year-old German shepherd, was brought home from a shelter by Donya DeLuca. Her husband Adam was not sure about the situation, however.
Then a rattlesnake entered the family's backyard and the couple's daughter Molly, 7, was in danger of getting bitten. Haus jumped in front the snake to protect the girl.
The dog endured three venomous bites and was taken to BluePearl, a 24/7 emergency veterinary hospital. There he was put on a constant anti-venom drip.
Donya expressed how impressed she is at the dog's resilience. She said that what "keeps [her] going is how he still flicks his tail every time he sees [her] come into his kennel even though [she] know he's hurting."
The snake was believed to be an Eastern diamondback rattlesnake. They are among the most dangerous on the North American continent.
Please fill in your e-mail so we can share with you our top stories!