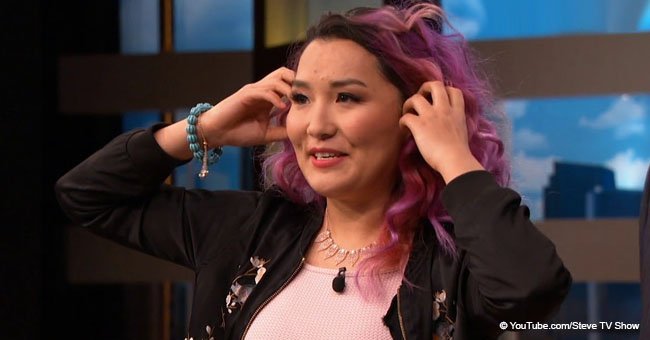 Girl taught herself memory techniques and now she can remember almost everything

Yanjaa Wintersoul appeared on the Steve Harvey show not once, but two times to display her unbelievable memory skills.
The 24-year-old from Mongolia stunned the audience both times. Her self-taught skills were tests by Harvey the first time in November 2017.
He challenged her to memorize his entire book and then put some page numbers in a container. He dipped into the container and pulled out random numbers.
Follow us on Twitter for more @amomama_usa.
For each number Harvey pulled, Wintersoul correctly recalled what sentence started that page. At that point, Harvey asked Wintersoul if she's over 21. She told him she was 23.
Harvey then said they were going to Vegas. "You finna sit right next to me and [we] finna get rich."
Then Harvey played one of his favorite games, "Harvey's Hundred's." In the game, Wintersoul had to play a classic matching game of 20 cards but had only a minute to do so.
She successfully won the game, granting the audience a $100 gift card and setting up herself for a second appearance on the show due to high ratings.
According to her website, Wintersoul, who holds the world record for the "Most Names and Faces Ever Remembered," is only the eighth person to achieve an International Grandmaster of Memory.
Her records stand at 187 international names in 15 minutes and the memorization of over 1000 random digits in under an hour.
On her second visit to Harvey's show, Wintersoul memorized 10 images of Vegas. Afterward, Harvey asked her questions relating to the pictures.
Wintersoul also met each audience member for the show and later had to recall their names. She correctly remembered all the randomly chosen audience members' names when prompted.
Again, thanks to Wintersoul's remarkable abilities, the audience was given $100 gift cards for Lulus and were thrilled.
In additional to his self-named show, Harvey hosts the long-running game show "Family Feud."
Back in August 2016, Harvey made a more tremendous impact on a player's life. In a more personal segment on his show, Harvey explained how he knew something was wrong.
He said that the man "was sweating profusely." He even had to change his shirt. When the contestant won some prize money after three days, he dropped to his knees and burst into tears.
Harvey then asked him what was wrong. The man responded that he is terminally ill with three months to live. Due to his sickness, he was unable to get insurance for his family.
With that, Harvey gave the man $25,000 more to assist with the heartbreaking situation.
Please fill in your e-mail so we can share with you our top stories!