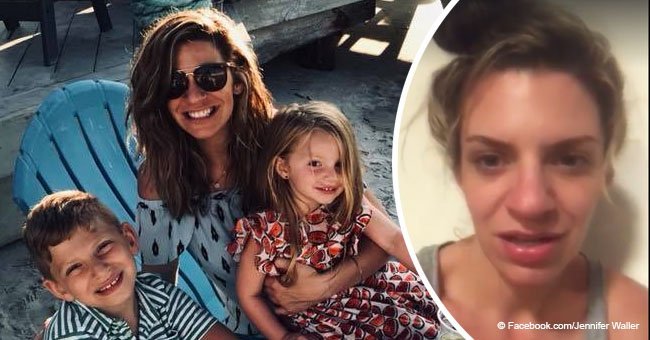 Young mom shares dire warning after being diagnosed with cancer (video)
Jennifer Waller is a 32-year-old who discovered she had colon cancer and posted a video advising others to get themselves screened.
The mother of two works as a registered nurse and says in the video, found below, that she thought her symptoms were due to living a typical busy life.
Waller had been experiencing stomach pains and weight loss. Five days before posting the video, she went in to check things out and received the gut-wrenching news.
Follow us on Twitter for more @amomama_usa.
When the Boston native went in for a colonoscopy, she woke up four hours later and was told she had a large tumor.
Waller, who now lives in New Jersey and works two jobs was shocked by what she was told.
"It was a shock because I can't have cancer. I'm a nurse. I take care of people. I tell people you have cancer. I treat you. I can't have cancer. Yet here I am, saying the words that make me so nauseous."
Waller revealed that she had checked her breasts and run several blood tests before the colonoscopy test. It was not on high on her list of possibilities.
The American Cancer Society recommends screening for colon cancer from age 50. That would have clearly been too late for Waller.
She said:
"I made this video because here in the U.S. you don't screen until you're 50 years old. That's 18 years from now." She continued, "I mean, according to my biopsy, I would be dead. And if I hadn't gone in and if hadn't been aware of my body, I would have been dead."
Waller shared the brutal truth of the matter to warn others. The video has garnered over 28,000 views to date and was shared over 200 times. Her message is getting out there.
Waller described her emotions and determination to spread awareness. She explained that "when you're diagnosed with cancer, you go through a lot of different emotions. At first, I told myself that I don't have a lot of choice in all of this, but I do and I choose to help and inspire others."
She said of the feedback:
"In a time that should be a very dark time for me, it has been very inspirational. I've had complete strangers reach out to me who have been so positive. We hear of so much negativity in the world, but there is so much positivity too in the world and that video has helped me to see that again."
According to Waller, the truth of the matter is that if she as a nurse had no idea of her health situation, then how much more so might others be ignorant of theirs.
She said that if she could "help one person by having them see the video, that could be one more person who gets screened."
As for Waller, she is intent on fighting through her upcoming battle.
"I'm not going to be a victim," she said. "I'm not going to feel bad for myself. I'm going to fight. I'm going to fight like hell and no matter where this road brings me, and no matter where I end up I'm always going to be on top. So cancer, let's dance. I'm ready."
Please fill in your e-mail so we can share with you our top stories!