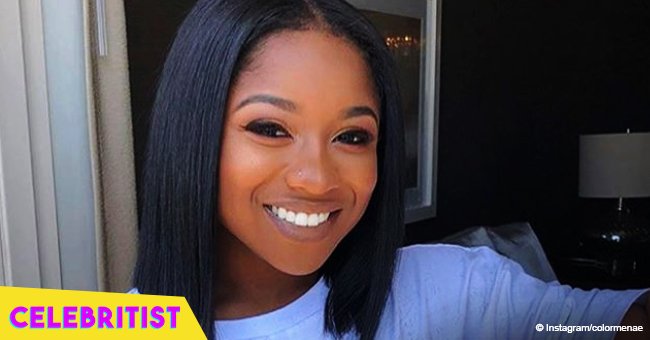 Lil Wayne's daughter Reginae Carter and her baby sister are all smiles in matching denim dresses
Reginae Carter is one proud and happy big sister, and the love she has for little Reign is visible through recent pics shared to her Instagram. The 19-year-old showed her love for her baby sister in an unconventional way.
She's the only daughter from Toya Wright's teenage relationship with rapper Lil' Wayne, so Reginae Carter grew up in the industry, surrounded by hip-hop stars and cameras. At 19, she's already building her path in Hollywood, but in between working and partying, Reginae hangs out with her little sister.
Toya gave birth to Reign Rushing six months ago, and aside from the new mom, Reginae was probably the most excited person in the family to welcome the little girl. Carter has taken her big sister role seriously and is continually showering Reign with love.
In recent pics shared to her Instagram, the "Growing Up Hip Hop" star melted hearts wearing matching outfits with little Reign. Both girls rocked denim, with Reginae donning an off the shoulder dress that put her toned legs on display and sunglasses.
Reign looked cute in a dress with white details on its short sleeves, denim shoes, and a matching headband. The girls' mother, Toya Wright, also posed with them, wearing a white and blue tie-dye dress.
While Carter only used a blue heart to caption her pic, her fans took it upon themselves to fill her comment section with their thoughts about the adorable siblings.
One user wrote "It's been just you two for so long. I know you both are happy for such a cute new addition," another added "Just beautiful, Reign a very happy baby always smiling!!" and a third one said, "Uh oh!! Reigny done learned how to smile for the camera!!"
Even before Reign was born, Reginae was flaunting her sibling love. The Clark Atlanta University student tattooed a design including a crown and a double "R" behind her ear. She explained that it represents her and Reign's initials.
Reginae had also proven to be a very protective sister, as she didn't hesitate to call out trolls and haters that were calling her little sister ugly and other despective names when she was still a newborn.
On an Instagram live, the reality star sent a clear message to social media haters saying:
"You can call me anything, but about Reign — that is a baby. She can't even say, 'Shut up.' That's what she needs to tell y'all, but she can't even say that. So, therefore, don't speak about her. You say she's cute and that's all. That's it."
Please fill in your e-mail so we can share with you our top stories!