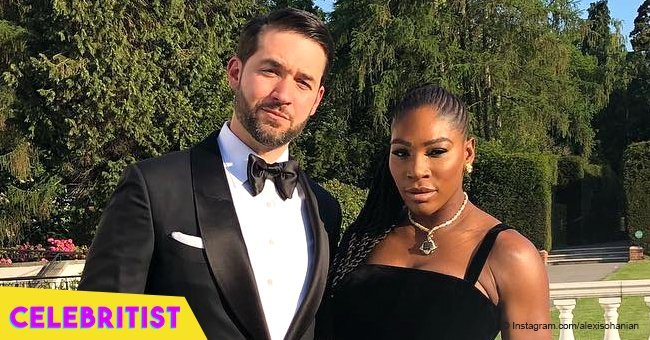 Serena Williams' husband shares childhood photo, proving baby Olympia looks just like him
After filling his Instagram feed with adorable photos of his 1-year-old daughter, Alexis Ohanian delighted fans with a throwback picture from his childhood.
Alexis Ohanian recently celebrated his daughter Olympia first birthday, and even though the little tot didn't have a birthday party because her mother, Serena Williams, is part of Jehova's Witnesses, the Reddit CEO allowed himself to share an adorable post to commemorate the date.
After getting comments from intrusive people judging Ohanian and Williams for their decisions and belief, the businessman decided to give his Instagram page a lighter mood by sharing an adorable pic from his childhood days.
In the pic, little Alexis is wearing a red t-shirt and holding his hands at either side of his face, maybe trying to imitate some animal, and he was delighted about it, as his face shows pure joy. "Serious. #TBT," Ohanian captioned the pic.
Many fans took over his comment section to point out that Olympia looks just like him. One user wrote "Your cute little girl has your eyes! Adorable," another added, "Little Olympia looks like her dad with her mama's fierceness!" and a third one agreed "Omygosh...your daughter is the spitting image...strong genes."
In an interview the tech entrepreneur did earlier this year with Good Morning America, he revealed that finding the balance between work and family has been one of the most challenging things about his marriage with Serena. He stated:
"I have learned a lot from my wife who is also very career-driven, but I have also learned that this is something that she struggles with. We both have to make an effort when we are spending time with our kid and one another to really be present in that moment."
Speaking of his daughter, he revealed that he wants to encourage her to find her passion so that maybe, she can leave the world a bit better of how she found it, just like her parents are trying to do with their work. And added:
"I want to give her an opportunity to try everything she could possibly be interested in -- from learning to code to playing sports -- whatever she wants to do."
Please fill in your e-mail so we can share with you our top stories!