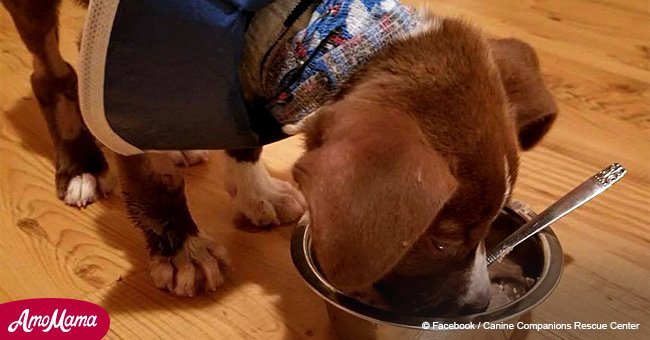 Little puppy found seriously maimed is now doing well
A poor puppy named Rumble was left dying by its owner and has since been in the care of a foster family. Now, he is recovering and doing very well.
Rumble was found in the bushed at a mobile home park in Clarkston, Michigan on July 23, 2018. At the time, he was only five to six weeks old.
Fortunately, a kind person decided to help the poor pup who was clearly dying and was covered in maggots.
The person contacted a volunteer working at the Canine Companions Rescue Center, which is the facility presently taking care of Rumble.
Follow us on Twitter at AmoMama USA for more details and updates.
Following the rescue, the pup was taken to a local animal hospital, where the staff was surprised with Rumble's fighting spirit.
Despite having a skull fracture caused by blunt force trauma, Rumble fought to live.
Now, Rumble is doing well, but he previously struggled with brain damage that has affected his ability to regulate his body temperature.
He also had trouble developing an appetite and moving around on his own.
He may not be out of the woods just yet, but the staff at the rescue center remain hopeful as the dog continues to build enough strength.
It won't be long until Rumble would be able to live normally and happily.
Speaking with People, the rescue's operation manager named Erica McCarthy said the dog is at a foster home and is "recovering slowly."
A lot of families have approached the center in the hopes of adopting Rumble. Although, the little pup is not ready to become part of a family just yet. He needs to get well first and focus on his health.
As of late, Rumble achieved a milestone when his feeding tubes were removed. He can now eat all by himself without assistance.
As for the people responsible for Rumble's injuries, there were charged with one count of misdemeanor animal cruelty, as revealed by the rescue.
In other stories, a Golden Retriever adopted some tigers, a lion, and a hyena after their mothers have abandoned them.
Staying at a zoo in China, the dog has been nursing the baby animals along with her puppies.
Please fill in your e-mail so we can share with you our top stories!