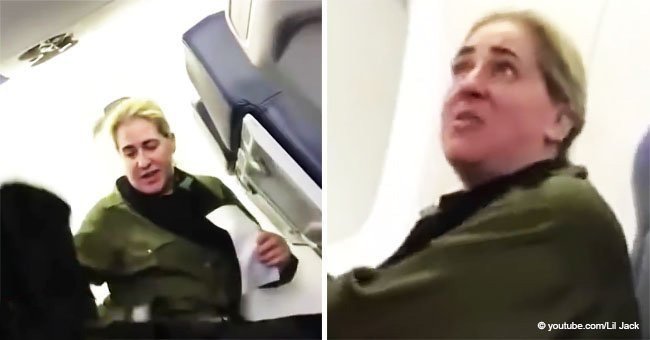 Woman rudely refuses to sit next to a 'crying' baby on a plane and gets asked to disembark
An employee of the New York state government was filmed threatening a flight attendant and being offensive to a mother with a baby in her arms, and she ended up suspended from her job.
A scandal on a Delta Air Lines flight went viral in a matter of minutes when Susan Peirez started to yell at another passenger who had a baby and then a crewmember, according to Inside Edition.
Melissa Rundell is the mother of the 8-month old baby named Mason whose presence made Peirez start cursing loudly about her seat assignment, as she didn't like the idea of sitting next to "a crying baby," as she complained.
As Rundell told the news outlet, she asked the rude woman to please stop using that kind of language around her son, to what Peirez only replied with more profanities. Read more on our Twitter account @amomama_usa
A flight attendant noticed the stir and intervened to try to calm Peirez down, but as her request to be assigned a different seat was denied by the airline employee, the woman said she worked for the Governor and was going to have her fired.
The flight attendant wasn't going to accept that kind of behavior and she reported the woman with her supervisor. When Peirez was asked to leave the plane, her attitude changed from hostile to humble, but it was too late to make amends.
Peirez tried to justify her actions claiming that she was under much stress, and this was very shocking for Rundell to see, as she couldn't believe how quickly the self-important woman changed her tone.
"It kinda made me laugh when she started to apologize because you don't go from being a psycho to apologizing and acting like she did nothing wrong. She totally deserved to get kicked off the flight."
-Melissa Rundell, Inside Edition, February 19, 2018.
Rundell caught the entire shameful episode on video with her cell phone, and before the flight took off she posted to her Facebook account for her relatives to know about what happened, without imagining it was going to be so public.
The video caused much indignation and social media users shared it massively, making the story reach the New York State Council on the Arts, the agency where Peirez works, and she was suspended from her job.
"I kind of feel bad for this lady. I don't know her story, she doesn't know mine. It might have been a misunderstanding. I was sharing [the video] for family members, and it started going crazy," Rundell told Inc.
The incident made so much noise that Delta Air Lines wrote a statement to confirm the company position on the matter and support their employee for doing the right thing.
"This customer's behavior toward a fellow customer on a flight from New York to Syracuse was not in keeping with [our] standards. We appreciate our Endeavor Air flight attendant's commitment to Delta's core values and apologize to the other customers on board Flight 4017 who experienced the disturbance," read the statement.
Airplanes are often the place of conflict, and flight attendants have to make difficult decisions in a short time to guarantee the peace and safety of the passengers. Unfortunately, sometimes they don't find the best solution to a problem.
Another incident also took place in the John F. Kennedy Airport as an Alaska Airlines fly to Los Angeles was about to take off, when preferential treatment was given to a heterosexual couple who demanded a gay couple to change sits in order for them to seat together.
Businessman David Cooley and his partner preferred to leave the flight and the two said they were never going to fly with the airline or its associates given the discriminative treatment they suffered.
Please fill in your e-mail so we can share with you our top stories!