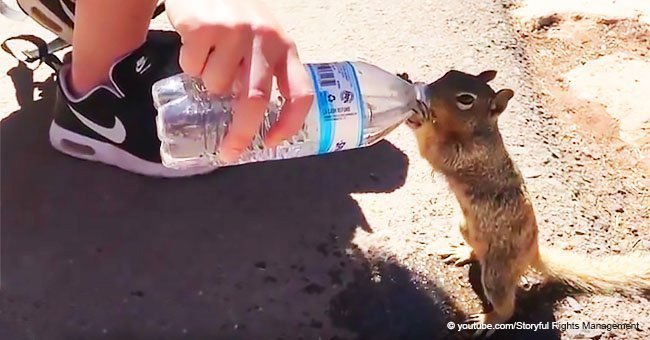 Squirrel begs a tourist for water (video)

A clip captured by a couple of visitors to the Great Canyon on which one of them lets a squirrel drink water from a bottle went viral, making the park authorities worry about this interaction with the local wildlife.
The video was shared on Storyful Rights Management's YouTube channel on June 6, 2018, and it has been viewed almost 4 million times. Sharing their water with an adorable thirsty squirrel might seem the right thing to do, but apparently, it isn't.
According to Upsocl, a man named Paul Camps was walking around Great Canyon alongside his girlfriend when the two ran into a squirrel that got unusually close to them.
The rodent allegedly kept following the couple with much interest, sometimes extending its paws towards Camps. Read more on our Twitter account @amomama_usa
The couple was very impressed with the animal's curious behavior, and Camps asked his girlfriend to hold his water bottle for him while he took his cell phone out to take a picture of the squirrel.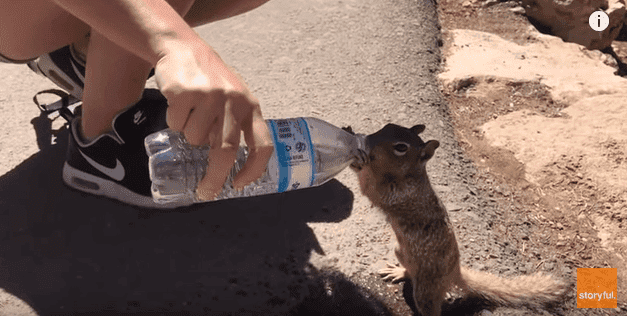 Source: Youtube/ Storyful Rights Management
They noticed that as soon as the water bottle went from Camps's hands to those of his partner, the squirrel turn to her, extending its paws towards her just like it had done with Camps. They figured the animal was asking them for a drink.
Camps opened the bottle and put it to the squirrel's mouth so the creature could drink. The squirrel held the bottle with its front paws and drank until feeling satisfied.
The exchange between this couple and their furry friend was caught in a 47-seconds video that went on to become impressively popular since its publication.
But although the internet users found the video to be adorable, the park rangers were not happy about what this man and woman did.
As 12News reported, after the video went viral, the park's personnel hung signs all over the place to warn people against feeding the wildlife. Even though it is a very common practice, the rangers say this is very harmful to the wild animals.
The Grand Canyon authorities shared that interacting with the animals in the wild in this manner makes them forget their instincts and become dependent on the visitors to find food and water.
Nevertheless, Camps and his girlfriend replied that they would help the squirrel again because for them it was clear that the poor animal was really thirsty.
This is not the first time when the story of a particular exchange between squirrels and humans become widespread online. Recently, a man from Michigan discovered something very odd in his car engine.
When Kellen Moore opened the hood of the car he had just acquired, it was completely covered with pinecones, since the squirrels had decided it was the perfect place to stockpile for the winter.
Please fill in your e-mail so we can share with you our top stories!