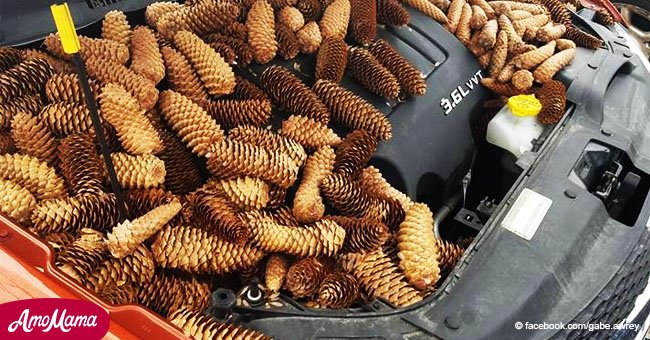 Man finds pinecones in his car engine after squirrels begin to stockpile for Winter
Squirrels normally struggle to choose a good place for hiding food for the winter, but apparently one of these naughty rodents thought he had found the perfect spot for this.
Recently, Gabe Awrey was at his job in Gaylord, Michigan, when his boss and friend Kellen Moore asked her to come outside with him. According to The Dodo, the two friends walked t the parking lot to check something in Moore's car.
Moore opened the hood of the second hand Dodge Journey he had just bought. Awrey couldn't believe what he saw on top of the car engine. It was completely covered with pinecones.
Moore told Awrey that he had discovered the pinecones as he was arriving for work when he noticed his car was making a strange sound after he tried to turn on the air conditioner.
'He proceeded to open up the engine bay and discover all 50 pounds of pine cones,' Awrey told the website.
Awrey took a photo of the remarkable view and uploaded it t his Facebook account writing 'Remember to check your engine bays this time of year! The squirrels are sneaky. This was my friend's car today!' Awrey wrote in the social network.
Both men got down to work to carefully remove the stick pinecones from the engine. It took them around 45 minutes.
'Literally, every free space in that engine bay was filled. The heat from the engine opened all of these bad boys up too, making them lodged in some places,' Awrey continued.
In spite of their hard work, the car wasn't completely pinecone-free yet.
'There's still some stuck in the bumpers in the inside [of] the wheel wells. His car is only a month old, he bought it used, and there was nothing in the engine when he checked it out. The car still works fine though,' Awrey said.
They agreed that squirrels were the most probable animal to blame for this mischief. Even though pinecones might not look so tasty, their seeds full of nutrients, hidden beneath the hard exterior are worth the effort.
Please fill in your e-mail so we can share with you our top stories!