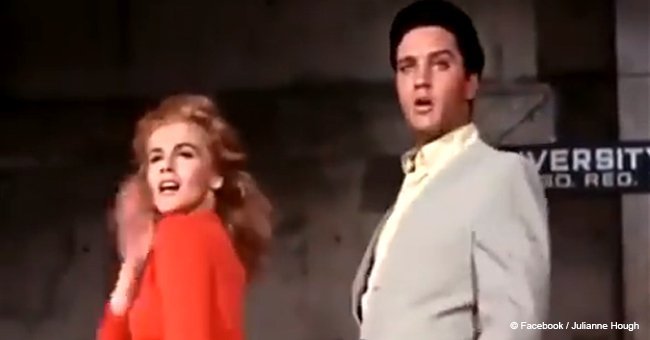 Elvis Presley and Ann Margret dancing together – their chemistry is amazing
Professional dancer and country singer turned actress Julianne Hough shared a throwback clip of the amazing dance performance of Elvis Presley and Ann-Margret.
Hough took to Facebook to share the video which was a scene from "Come On Everybody," where Presley's character Lucky gets on stage with Ann-Margret's character of Rusty.
The duo dances to the song and flaunts some classy and memorable choreography. The normal hip-shaking, which is iconic of the Presley, is apparent along with some other amazing dance moves.
According to Country Rebel, the song is about a race car driver named Lucky Jackson, who goes to Las Vegas to race in the city's first Grand Prix Race. However, he requires some money to get a new engine for his car.
Follow us on Twitter to learn more.
He eventually wins enough money to get the new engine but loses it all in the hotel's pool.
Eventually, Lucky gets a job as a waiter there to pay for his room and earn back the money he lost. He later ends up falling for Rusty, who is the swim instructor.
To win the prize money, he tries to enter the hotel's talent show contest and also to win the affection of Rusty.
The video shared by Hough is one of the scenes where Presley's character is performing during the hotel's talent show.
Facebook users have definitely welcomed the video. It has gathered over 40 million views so far and has received over 1,000 reactions. It has. also been shared over 300 times as of yet.
In the caption to the video, Hough wished everyone a 'happy Monday' and requested them to 'channel your inner Ann-Margret and Elvis Presley.'
Presley is one of the biggest icons in the music industry with his fan-following spreading across boundaries and ages. His demise was one of the saddest days for the entertainment industry. Here are some inside details on his tragic demise.
Please fill in your e-mail so we can share with you our top stories!