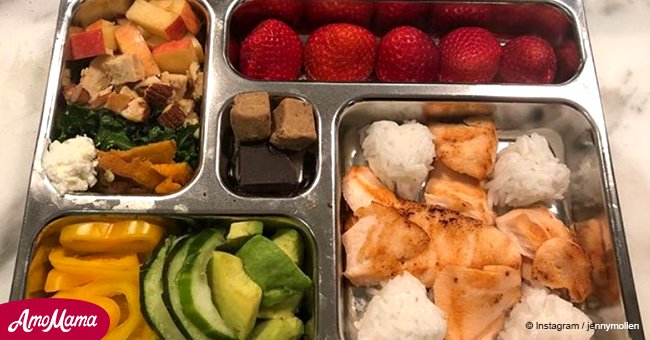 Young woman came up with a beautiful way to instill in her child a taste for food
People were slightly perplexed at the photos of her son's school lunch, questioning whether he would actually eat any of it, but she came back with an interesting explanation.
Author Jenny Mollen is trying to teach her four-year-old son Sid the benefits of healthy eating by sending him to school with some rather unconventional lunches for a little boy his age.
She shared an image of his lunchbox to Instagram, showing that she was trying to give him the minimum required foods from all sides of the recommended pyramid.
This included slices of apple, fresh strawberries, yellow peppers, avocado, rice and salmon, all neatly cut up and placed into compartments inside the metal tin.
She captioned the shot:
"Bringing it hard for Sid's first day back to school. (From right: sautéed sesame salmon, rice hearts, avocado vs. yellow pepper battle, coconut sugar dark chocolate and plant protein bites, mini harvest bowl salad w goat cheese, and organic strawberries)."
After people questioned in the comments section whether her son would actually bother to eat what she had clearly so carefully made him, she added an addendum to her original caption, explaining the reasoning.
"Note: I don't care how much of this he eats. It's more about constant exposure and pushing his limits. #dictatorlunches #backtoschool."
Studies have proven that children have to be given as many opportunities as possible to try different food that is outside their comfort zone of chicken nuggets and fish fingers, or they will never actually learn to like anything other than the norm.
These same studies have also shown that it may take a child as many as 20 tastings of new foods before they will learn to eat and like it.
It's not the first time the mother has shared photos of her son's meals, drilling the message home that children need to learn from a young age how to eat healthily to avoid carrying bad eating habits into their adulthood.
Please fill in your e-mail so we can share with you our top stories!