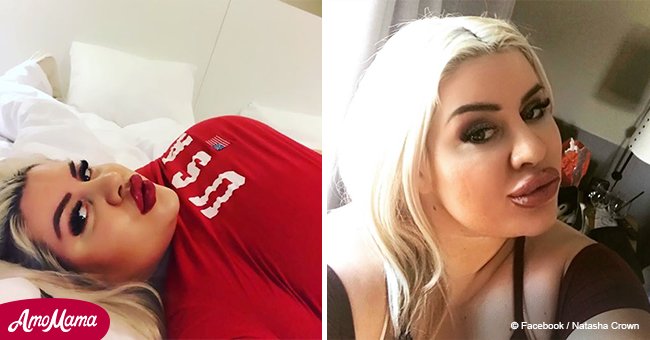 Glamour model defends dangerous surgery to have the biggest behind in the world

Swedish glamour model Natasha Crown, from Gothenburg, went to great lengths to make her bum the biggest in the world.
However, not everyone is as happy with Crown's life choices as she is. Her parents have regularly argued with her to stop changing her body. They were worried that her pursuit of the perfect body is doing much damage.
"They think about my health and tell me to think about the future, will I ever have a family of my own and things like that," she told the Sun.
"It is difficult for them to see me change. Sometimes they have been very cruel and said things like, 'you look like a cow,' she added. "They don't understand why I am doing this and I say to them: 'How can you speak to your own daughter like that?'"
The glamour model said that she just told her parents that her dream physique is for her and it what makes her happy. Follow us on our Twitter account @amomama_usa to learn more.
HER BUTT ISN'T BIG ENOUGH
Crown, who claims to have a 6ft wide bottom, has been eating pizza, pasta, and about six kilos of Nutella a month to get the body of her dreams.
Though she has already an eye-popping proportion, she said that she "definitely want bigger."
"The more I gain the better the bum will be. I'll do whatever it takes to have the world's biggest bum," Crown told the Sun.
Because of her behind, she has earned thousands of loyal followers on Instagram where she regularly shares photos.
SHE'S NO STRANGER TO SURGERY
The social media star had fat removed from elsewhere on her body and used to plump up her butt further.
Crown got her first cosmetic procedure when she was 20 years old. She admitted that she'd been addicted to plastic surgery ever since. Aside from butt lifts, she also underwent boob jobs and lip filler.
According to the super-size model, she grew up as a happy child, and that she was always very sociable and popular.
"When I was a teenager and my body started to change – I got boobs, I got a bum. I just loved my body so much," said Crown.
"I just love the feel of having a big bum. When I walk, I feel all the jiggling, jiggling, jiggling and I start to feel horny with myself," she explained. "That is the best feeling I think. My bum makes me feel sexy and makes me feel powerful."
During her appearance on ITV's "This Morning" recently, Crown opened up about her plans for another surgery.
Please fill in your e-mail so we can share with you our top stories!