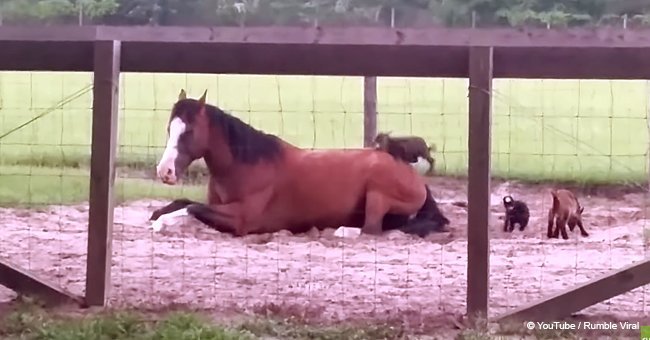 Video of baby goats playing with a patient horse goes viral
The steed named Mr. G was lying down and chilling when three baby goats started playing around him. The cute little goats were jumping, skipping and hopping and the patient Mr. G just laid there, without moving a muscle.
The video of the adorable little goats trying to kick up the dust was shared on YouTube on August 28, 2018, by the channel Rumble Viral. After running around the space for a while, two of the goats then try to climb M. G's back.
After playing around for some time, one playful goat attempts to hop on the back of the sitting horse, but it does not succeed for the first couple of times.
Read more on our Twitter account @amomama_usa.
When it tries again, he climbs and stands on top of Mr. G for a few seconds then topples down the other side. The fall does not seem to deter him though, and he jumps up the horse's back again.
The cute goat stands on top for quite some time and looks around. When it tries to run back and forth on Mr. G's back, he falls again.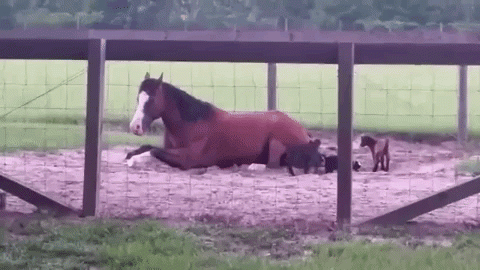 Source: YouTube / Rumble Viral
The goat is relentless and never gives up. It continues to climb the calm horse's back even after it falls several times.
It is next joined by the second goat in the group who jumps up and stands next to his companion.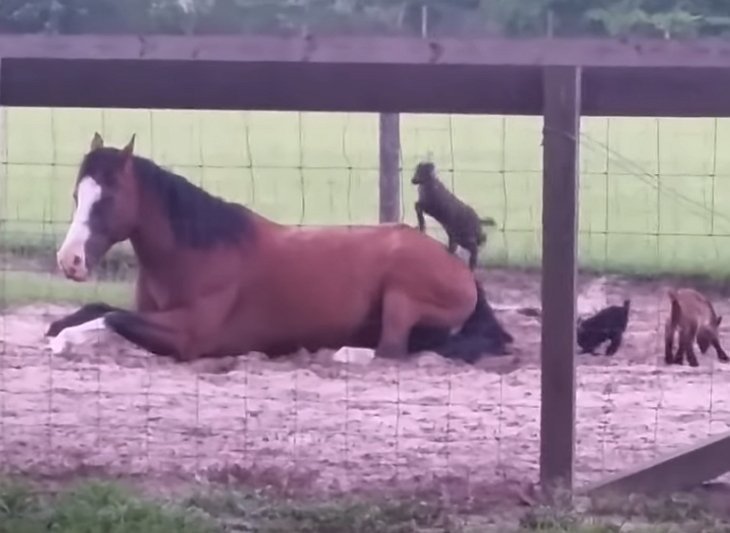 Source: YouTube / Rumble Viral
At this point, a voice behind the camera can be heard saying, "I am gonna see if the other one tries."
But the third adorable goat seems fine with just playing on the ground itself, and it never attempts to climb up Mr. G's back.
The patient horse just ignores the goofy little goats and continues to stare off into space. The scene turns out to be cute and hilarious all at once!
Goats are known to love climbing anything, and goat farmers will find these goats on top of odd places in their farms. These goats proved that they are not any different.
Please fill in your e-mail so we can share with you our top stories!