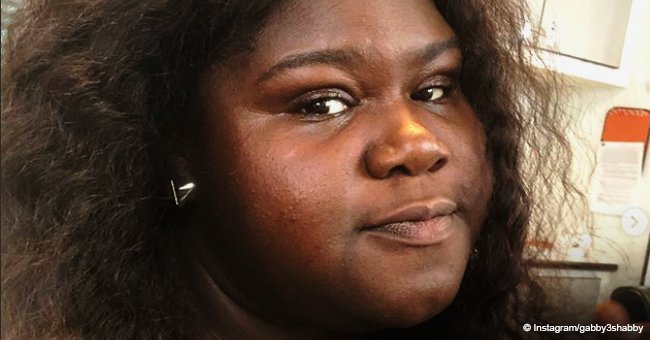 Gabby Sidibe shares photo of herself in white dress after major weight loss
Gabby Sidibe is on a roll, and there's no stopping this beauty! The "Empire" star shared another photo of herself looking fierce in a sleeveless white dress.
Sidibe was pictured in what appeared to be a performance with a couple of human silhouettes visible in the shot. She held a Black Hand fan with the inscription "Power Bottom" and wore a fierce look.
Since losing a ton of weight after her laparoscopic bariatric surgery, the actress has been sharing more pictures of herself. Sidibe admitted that she decided to have surgery after she and her brother were diagnosed with Type 2 diabetes.
"I did not get this surgery to be beautiful. I did it so I can walk around comfortably in heels. I want to do a cartwheel," Sidibe said.
The "Precious" lead actor added:
"I want not to be in pain every time I walk up a flight of stairs."
"I just didn't want to worry. I truly didn't want to worry about all the effects that go along with diabetes. I genuinely (would) worry all the time about losing my toes."
Sidibe is also very committed to maintaining a healthy weight. She has since commenced eating healthy and "working out with a personal trainer, swimming and riding on a tricycle around the set of Empire."
But despite the visible results of her new lifestyle, Sidibe sees no reason why people should congratulate her. In her words:
"You don't need to congratulate me on it. You don't congratulate me every time I blow my nose. I needed to. It's my body. Mind your own body."
It is with that same quick wit that the 35-year-old claps back at naysayers and trolls who feel they have an opinion about her life. Five months ago, she delivered a savage response to a troll who called her lonely because she shared pictures of her cat.
Sidibe wasted no time in retorting:
"Oh no! Do I look lonelier than you with your 33 followers?"
The actress, who admits she's always had to deal with weight, is now an advocate for body positivity. She penned down her thoughts and experiences in her 2017 book, "This Is Just My Face: Try Not To Stare."
Please fill in your e-mail so we can share with you our top stories!