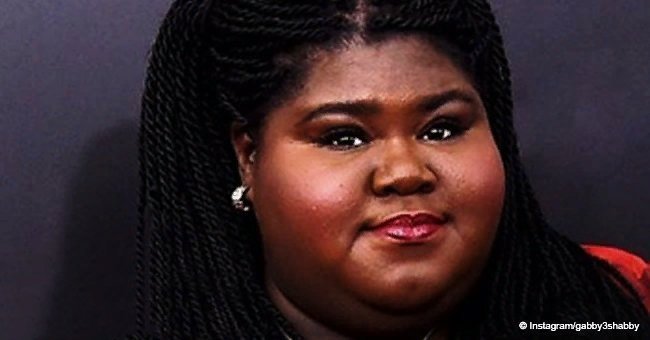 Gabby Sidibe flaunts slimmer curves in black T-shirt & tight pants after major weight loss

Gabby Sidibe continues to flaunt her weight loss results, sharing a mirror selfie that put her slimmer curves on display. The "Empire" star recently disclosed the source of her beauty, and it's not what many would have imagined.
Posing before a floor-length mirror, Sidibe rocked a simple black T-shirt and matching snug pants. She piled some of her braids in a knot atop her head and let the rest fall around her shoulders.
Sidibe shared the selfie with her 1.6million followers and inserted a hilarious caption:
"I only became an actress so that someone else can be in charge of laying my edges down."
The 35-year-old admitted last year that she found it absurd to be complimented on her weight loss. The "Precious" actress said she'd rather be recognized for her talent and her voice.
She expanded:
"You don't need to congratulate me on it. You don't congratulate me every time I blow my nose. I needed to. It's my body. Mind your own body."
Her coldness towards such compliments, she clarified, was as a result of their "misogynistic" roots:
"We tell women what they need to look like, and what they don't need to look like. There are plenty of like fat guys or whatever, and no one has ever written think pieces about why they need to lose weight"
Sidibe commenced her weight loss journey in 2016 with laproscopic bariatric surgery. Explaining the procedure in her book, "This Is Just My Face: Try Not to Stare," Sidibe said:
"My surgeon said they'd cut my stomach in half. This would limit my hunger and capacity to eat. My brain chemistry would change and I'd want to eat healthier. I'll take it! My lifelong relationship with food had to change."
Following the surgery, the Brooklyn-native committed to regular exercise and healthy eating. She told People:
"I use meal plans that are really, really good, especially for when I'm busy. I cook a lot more. I talk to my nutritionist a lot."
"I work out with my trainer three to four days a week. If I'm not working out with a trainer, I get up, and I go swim."
Asked where her beauty comes from, the "Grimsby" actress replied promptly:
"It comes from knowing who my parents are."
Please fill in your e-mail so we can share with you our top stories!