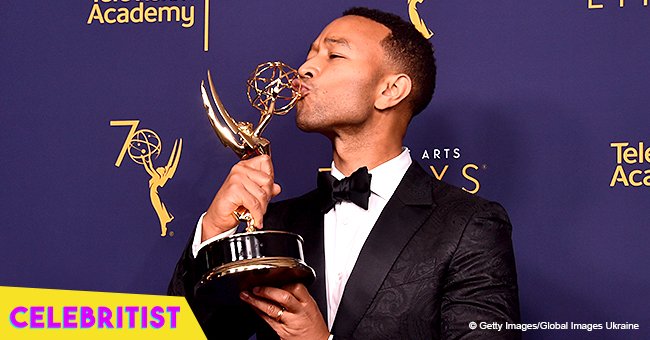 John Legend makes history as the first Black man to achieve 'EGOT' status

John Legend is now officially a member of the EGOT club. He just won the last of the four big awards this weekend making him the first African-American man to accomplish the feat.
John's Legend's weekend was both victorious and historical. Not only did he win an Emmy at the Creative Arts Emmy Awards for his production of "Jesus Christ Superstar Live in Concert" but he also made history as the first male African American to snag an EGOT – Emmy, Grammy, Oscar, and Tony.
This weekend, the singer posted a photo where he's joined by his co-producers Andrew Lloyd Webber and Tim Rice, as they held on to their Emmys after receiving the honor. In his caption, he explained the significance of his award and expressed his gratitude for being a part of a great team.
"Before tonight, only 12 people had won an Emmy, Grammy, Oscar and Tony in competitive categories. Sirs Andrew Lloyd Webber, Tim Rice and I joined that group when we won an Emmy for our production of their legendary show Jesus Christ Superstar. So happy to be part of this team. So honored they trusted me to play Jesus Christ. So amazed to be in such rarefied air. #EGOT"
John's Emmy completes the big four awards he now has earned beginning with his 10 Grammys he racked in 2006. In 2015, his song "Glory" earned him an Oscar when it was used for the film "Selma." Two years later, he received a Tony for co-producing the Broadway show "Jitney."
His EGOT win is made even sweeter by the fact that he's the first African American to do so. He now joins Rita Moreno, Audrey Hepburn, Mel Brooks and Whoopi Goldberg who's also the first black woman to be a part of the EGOT club.
Following his recent Emmy win, John's wife Chrissy Teigen shared in his joy by posting a photo of the two of them from the awards night. She was kissing a smiling John on the cheek in the photo then she gushed over him and their life in her caption.
"my incredible man. what a surreal life"
She also shared a video of her husband adding his latest trophy on the top shelf in their home where his other awards were on display. "Perfect" she says from the background describing the moment and most certainly their world.
Chrissy also used John's latest win as an opportunity to troll him. In the same video, she teased her husband about his new award by using the lyrics of the theme song from the children's show "Arthur" to caption it. John has often been compared to the main character of the show.
The couple was in Bali last month where they enjoyed a vacation with their children Luna, 2 and Miles, 3 months. On their way home, Chrissy shared a photo of the two kids from inside the plane. While Luna was busy fidgeting with the controls, Miles patiently sat strapped to his own seat.
In previous photos the mother-of-two shared from their weeks of leisure, the family appeared to have enjoyed their time. It came with a little scare though as several earthquakes hit the island. Chrissy tweeted her fears after experiencing the first earthquake and appeared calmer when she tweeted after the second quake which was much smaller than the first.
Please fill in your e-mail so we can share with you our top stories!