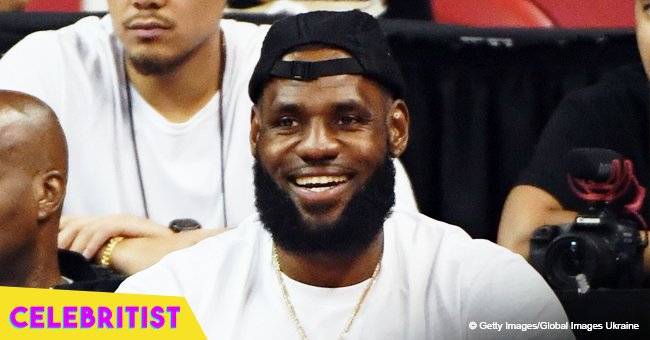 LeBron James steals hearts with photo of his 3 kids who look like true gamers
LeBron James's three kids are as proud of their father as he is of them. In a recent pic shared by the King, his kids show their excitement for the newly released NBA video game "NBA 2K" 20th-anniversary edition.
James has been making lots of headlines as of late for his entertainment projects, his contract with the Los Angeles Lakers, the school he opened in his hometown, and his partnership with 2K Games to produce one of the most realistic looking basketball video games ever seen.
To promote the game, LeBron shared a beautiful photo of his children with Savannah James: LeBron Jr., also known as Bronny, Bryce, and little Zhuri, on Instagram. The adorable siblings were caught in what seems to be their living room getting ready to play the highly expected game.
Bronny was wearing black shorts and an aquamarine sweatshirt while holding princess Zhuri on his shoulders. The 3-year-old is the embodiment of cuteness in a black t-shirt with the word "Dreamer" printed on it, flower printed pants and pink shoes. Bryce, the middle child, was donning a grey t-shirt and sweatpants.
The James brothers were the perfect models holding the video game cases while Zhuri lifted an Xbox control ,ready to give her brothers a fight on the game. LeBron captioned the post:
"I ain't the only one HYPED/GEEKED up about @nba2k!!! It's LIT in this household right now!! #JamesGang #TheyWillKnowYourName."
Fans took to the comment section to share their thoughts about the picture. One user wrote "I'm so hyped to get my own copy this year can't wait for 2k19 here we come," another added, "THE KING HIMSELF AND THE FUTURE EMPERORS," and a third one went a bit off the rails saying "Man Bron I can't wait till ur son get in the league and you 2 guys play together."
That fan was talking about Bronny's reputation among basketball fans at 13-year-old. The boy is already making big moves into the game, following his father's steps and creating huge expectations around his name.
He recently started the 8th grade at the prestigious Crossroads High School in Santa Monica. And even though he was to wait a year to play on the school's basketball team, Bronny keeps on attracting the attention of fans and experts even when he's playing casually.
The boy sure has a bright future ahead.
Please fill in your e-mail so we can share with you our top stories!