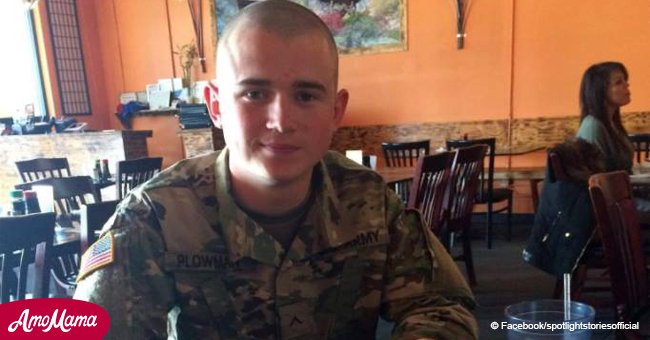 Strangers show act of kindness to military family and it goes viral

The strangers have captured the hearts of many people after showing a simple act of kindness to Heather Almond and her son.
Heather's child, Gavin, joined in the United States Army and was in the midst of his basic training.
So when the mother had the chance to spend a weekend with Gavin, she decided to make her way to Fort Benning in Georgia to see him.
Heather then took Gavin out to lunch at a restaurant. However, when she asked for the check, something strange happened.
Follow us on our Twitter account @amomama_usa to learn more.
The proud mother shared what happened next with the Spotlight Facebook page in 2017.
"This weekend I went to visit my son at Fort Benning with my daughter and mother. He is at basic training, and it was family weekend," she wrote. "He loves sushi, so we found a Japanese restaurant."
"We probably ordered $100 worth of food, and when we went to pay, the waitress said that the people at the other table had picked up or bill and they said to thank your son for his service."
Heather added: "They were gone before I found this out, but I happened to snap a picture of my son that had one of the people in the background. I don't know who she is, but I can tell you that it meant the world to us. We will find a way to pay it forward."
Though the strangers didn't need to get involved, these people have seen that Gavin was spending time with his family in between basic training courses and they wanted to help out.
The Facebook post quickly went viral, and many netizens placed their thoughts via comments.
Kim Bianculli wrote: "God Bless your son. Thank you for your service. What a beautiful thing to do. If everyone had such love in their heart, the world would be a better place."
"I was that same Mom a year ago at Ft Benning with my son who is now stationed at Ft Bragg," Katie Davis Turner added. "It is a truly remarkable feeling knowing there are still people in this world who honor and respect the sacrifices (our) kids have made. I try to pay it forward every chance I get, and I never pass a member of our military (without) shaking their hand and giving them a very big thank you for their service."
"Heather, God bless your son and family. A simple 'Thank you for your service' to (a) current military member or veteran means so much! But this is a tangible act that many of us can do to show our appreciation also. I have done this several times, and have been the recipient of this kindness as well. Such love!" commented Dot Michael-Morales.
Nora's Legacy, an active duty member, shared her own experience. She said that she had also been blessed by strangers who paid (for) her meal and left without giving her the chance to thank them.
Please fill in your e-mail so we can share with you our top stories!