Brave baby elephant protects his mother from tourists
Despite its size, the baby elephant did everything to protect his mother from tourists in Kruger National Park, Africa.
The tourists were amused and couldn't stop themselves from laughing after they witnessed a special moment where the baby elephant was seemingly protecting his mother from them.
The group was on a safari trip at the park in South Africa when they ran into the elephant family on January 7, 2017.
Sensing it was going to be a once-in-a-lifetime moment, they decided to capture the whole thing on camera.
Follow us on Twitter at AmoMama USA for more viral stories and updates.
The baby elephant was walking together with its mother and two other adult elephants.
They were strolling along the road in the park, which made the tourists drive backwards for almost a mile.
The tourists, Arnold and Maria Jansen, said, "We had to drive about 1km backwards because they kept walking towards us."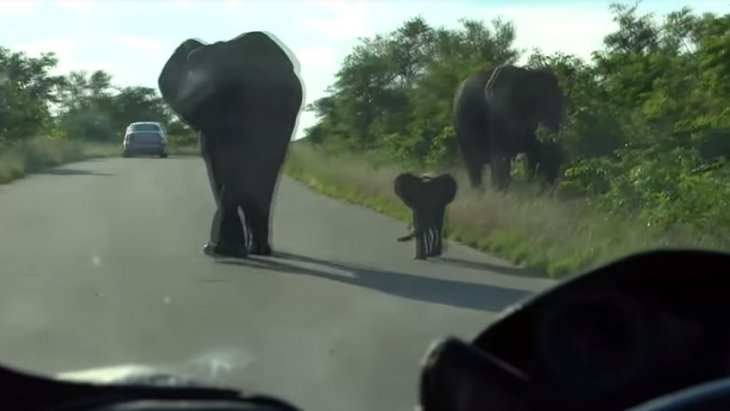 In the video, the baby elephant can be seen walking clumsily, stomping, and swinging its truck. It seemed angry as it tried to keep the tourists away from its mother.
Despite its efforts, the tourists were not afraid of the little animal, but they were somewhat amused.
It was a rare kind of entertainment for the tourists.
One of them can be heard saying in the clip, "Oh, he's a big man."
Even though the tourists meant no harm, the little elephant was determined to fight and continued to flare its ears and twirled its trunk.
The Jansen family shared the funny footage via the official YouTube channel of the Kruger National Park.
According to the couple, the incident happened somewhere between the Satara and the Orpen Gate late in the afternoon.
The pair shared, "This elephant calf decided to 'protect' its mom by giving mock charges towards safari tourists."
They said the baby elephant was "cheeky and brave." For social media users, the elephant was also very adorable.
What made the incident unusual is that it's usually the other way around. Most of the time, the mothers are the ones protecting their young.
Mother Elephant Protects Calf from Tourists

A Child is Always the Centre of a Mother's
💕Heart 💕#BeKindtoElephants #TempleElephant #dontbuyaticket #elephantsneverforget #Born2BWild #WeAreBetterTogether #EcoTourismNeeded pic.twitter.com/MKvXOFp5Pn

— Anika 🇨🇦 🇵🇰 (@anikasleem) April 21, 2018
The viral video just showed how feisty little elephants can be when they want to.
Another animal at the Kruger National Park recently became viral.
An Impala found itself stuck in the mud and left alone by its herd. Luckily, one man decided to help and grabbed the wild animal by it antlers, pulling it away from what would have been a very sticky situation.