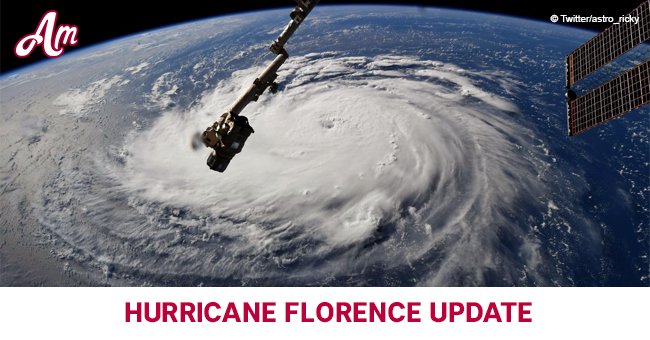 More than 1.5 million people evacuated as Hurricane Florence threatens to reach category 5

Hurricane Florence is looking more and more dangerous and starting to scare people away from their homes as it heads towards the coastlines.
Florence has grown into a Category 4 Storm and experts believe that it will continue to grow as its winds could accelerate to 155 mph, nearly a Category 5 intensity.
According to The Washington Post, 1,5 million Americans have been given the order to evacuate as the hurricane is expected to cause 'catastrophic damage.'
It has been reported by The State that President Donald Trump has approved an emergency declaration for North Carolina as 'life-threatening' as Florence heads towards the two Carolinas.
Follow us on our Twitter account @amomama_usa to learn more.
A DESTRUCTIVE FORCE
Aside from the two states, Virginia has also started evacuating its residents. Experts believe Florence could become one of the most devastating hurricanes to hit the eastern coastlines in the past few decades.
Scientists at the National Weather Service have warned that, due to the warm waters, the hurricane's winds can speed up and that it will stall as it hits the coastlines.
HARVEY-ESQUE
Florence is also expected to hit a stretch of coastline that is vulnerable to rising sea levels caused by climate change. According to Brian McNoldy, a hurricane expert from the University of Miami, Florence will be very similar to Hurricane Harvey.
"Normally, a landfalling tropical cyclone just keeps on going inland, gradually dissipating and raining itself out. But on rare occasions, the steering patterns can line up such that a storm slips into a dead zone between troughs and ridges."
Brian McNoldy, Fox News, September 10, 2018
A PAINFUL REMINDER
Last year, Harvey brought days of intense rain over the state of Texas, but, although Florence is believed to follow the same course of action, its waters are not likely to be as bad.
On Sunday, during an interview, Henry McMaster, the South Carolina Governor, advised residents to 'presume that a major hurricane is going to hit right smack dab in the middle' of the state, which is why the evacuation is currently taking place.
Please fill in your e-mail so we can share with you our top stories!