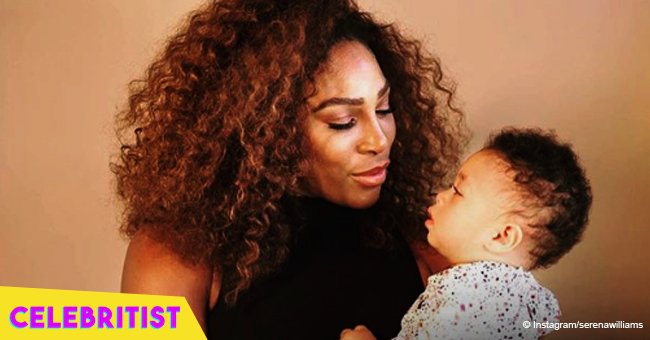 Serena Williams shares sweet photo of daughter Olympia warming up under a blanket

After a devastating and controversial loss at this year's US Open, Serena Williams shares a photo of her looking completely unfazed as she lounged with her little daughter Olympia.
Ready to put the past behind her, Serena shared a photo of her and her daughter lounging on a couch while bundled up in a Moana fleece blanket. In the photo, the tennis champion looked like the girl boss that she is, staring straight at something, presumably a television. Meanwhile, her darling daughter Olympia leaned towards her mom in a pink lace dress as she stared at the camera.
There is no one better to cheer up a sad mom than her child, and that's exactly what Olympia has been doing for her mom, as they've been spending some quality time together since the US Open.
The Ohanian family headed home after losing the US Open championship to 20-year-old Naomi Osaka and decided to cut off all toxicity and focus on their family now that she doesn't have any tournaments to think about for the rest of the year.
Aside from a straight-set loss to Osaka with the score of 6-2 and 6-4, the US Open has decided to fine Serena with $17,000 for the three code violations she was given during this year's women's singles finals.
During the second set of her match, she was penalized a point and then an entire game after she was accused of cheating by the chair umpire.
The umpire at that time, Carlos Ramos, issued a warning to Serena after ruling that her coach, Patrick Mourtaglou, was seen giving her hand signals which he considered as illegal coaching. Williams was in disbelief, saying that she demands an apology from him for stealing a point from her.
"I don't cheat. I'd rather lose. Every time I play here, I have problems."
The 23-time Grand Slam champion ultimately lost to first time Grand Slam winner Naomi Osaka, whom she acknowledged as a good opponent despite everything that had happened.
It's been such a challenging year for Serena, who had a near-fatal experience while giving birth to her first child. She also got married to her Reddit co-founder beau Alexis Ohanian Sr., before she gave it her all as she returned to tennis.
Although Williams is a strong woman, going through so much in a year can be quite exhausting, which makes her downtime with Olympia and Alexis all the more precious as it not only relaxes her but allows her to put everything in perspective as well.
Please fill in your e-mail so we can share with you our top stories!