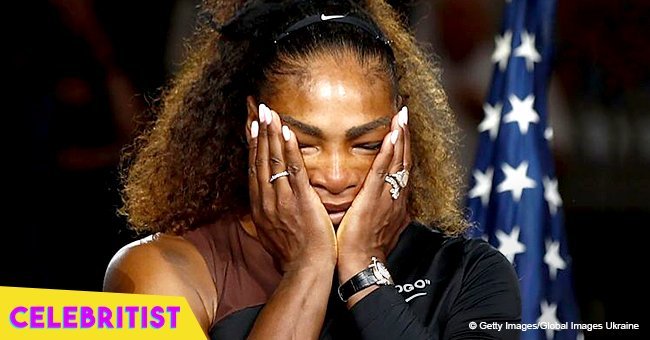 Serena Williams got hit with a $17K fine for code violations during US Open loss
According to the United States Tennis Association, the US Open has decided to fine Serena Williams with $17,000 for three code violations during this her loss in this year's women's singles finals.
This Saturday's match between Serena Williams and Naomi Osaka at the New York Arthur Ashe Stadium was plagued with controversy during its second set after umpire Carlos Ramos penalized Williams a point and then the entire game.
Osaka beat Williams in straight sets: 6-2, 6-4, to win her first Grand Slam title.
Ramos first issued a warning to Serena after ruling that her coach, Patrick Mourtaglou, was giving her hand signals that Ramos said was considered illegal coaching. Williams denied the accusation and could be heard repeatedly demanding an apology from the umpire.
Williams approached the net and told the umpire that she would rather lose than cheat.
"I don't cheat. I'd rather lose. Every time I play here, I have problems."
The 23-time Grand Slam champion did not elaborate on the other incidents that have happened to her in the US Open, but in 2009, she was docked a point after she was said to be verbally abusive to a lineswoman. Two years later, Williams' opponent Sam Stosur was awarded a key point and the game, after an umpire ruled Williams yelling "Come on" hindered Stosur before she made contact with the ball.
Last Saturday, Ramos first docked Serena a point when she smashed her racket after misplaying a shot. He then issued a full game penalty after she called him a "thief" saying that it was verbal abuse.
"You stole a point from me, and you are a thief."
After the match, Williams summoned to court tournament referee Brian Earley and supervisor Donna Kelso after Ramos penalized her.
"There are men out here that do a lot worse, but because I'm a woman, you're going to take this away from me? That is not right."
At the post-match conference, she accused the chair umpire of sexism, and also voiced her displeasure over an incident that happened last week, where umpire Christian Rask gave Alize Cornet a code violation for taking her shirt off which she had on backward during a match. Of course, this was not supposed to be a problem as the player had on a sports bra underneath.
According to Serena, she is being penalized for speaking her truth.
"I'm here fighting for women's rights and for women's equality and for all kinds of stuff. For me to say 'thief' and for him to take a game, it made me feel like it was a sexist remark. He's never taken a game from a man because they said 'thief.'"
Now that all is said and done, Williams made sure to acknowledge her 20-year-old opponent, as she said she deserved the win.
Please fill in your e-mail so we can share with you our top stories!