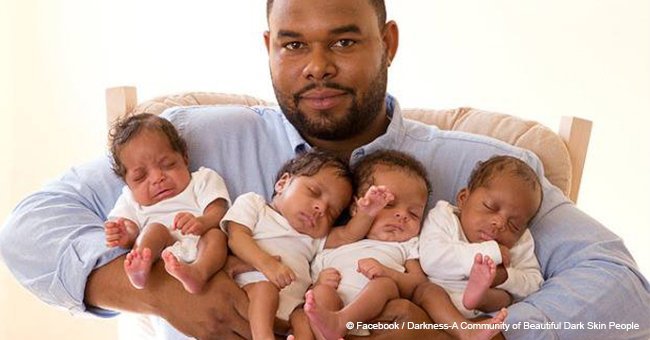 Father of quadruplets raises children alone after wife passed away during childbirth

Two months after the quadruplets were born premature, Carlos Morales brought them home. His wife, Erica, passed away after she gave birth.
Over the years, Morales has done an incredible job to raise four lovely children.
In January 2015, he was left devastated when his wife, Erica, died due to blood loss while giving birth to their quadruplets.
Follow us on our Twitter account @amomama_usa to learn more.
He was able to bring his four newborns home in March 2015. Since that day, many people have donated to his GoFundMe page, which was created by the couple's friend, Nicole Todman
"I went from having the best day of my life to the next morning experiencing the worst day of my life. My four babies came into the world and then my wife died," The Hearty Soul quoted Morales as saying.
"How could this have happened?" he asked. "[Erica] was fine, and then she wasn't. She was alive and then she was just gone."
Morales named the quadruplets Carlos Jr., Tracey, Paisley, and Erica. When they were born, each of them weighed 2-3 pounds.
In 2016, the single father received numerous gifts from Steve Harvey, including $10,000 per child from Sallie Mae to start a college savings account.
"When Steve Harvey told me that, I couldn't believe it," Morales said, according to Black Doctor.
When Morales went back to work, he said that it was the most challenging part of his day.
"That's when Erica used to text me and ask how my day was going," he explained. "It's on my way home that I realize she won't be there when I walk in the door."
Morales said that everything he does now is for his children. He's grateful to his family and friends who have been very supportive.
"They have such potential and it's my job to give them a great life. But I couldn't do it without my family and friends," he said.
Please fill in your e-mail so we can share with you our top stories!