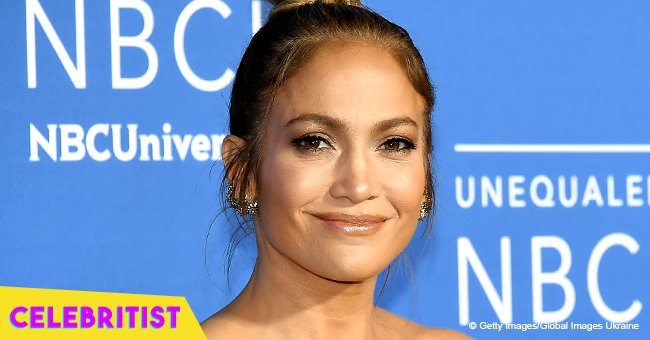 Jennifer Lopez, 49, shows off flawless makeup-free face in recent selfie

Singer and actress Jennifer Lopez took to Instagram to share a photo of her makeup-free face right after taking a shower. She looked ageless and beautiful.
In the post, the "Dinero" singer was laying on her bed with a white towel wrapping her hair. She was looking directly at the camera with her mouth doing a "duck face."
One of the most astonishing aspects of the image was how smooth her face looked. Even though Lopez will be 50 years old next year, there were no visible wrinkles or aging spots, proving that she has taken very good care of her skin throughout her life.
As for the caption, the singer wrote the hashtag "Friday Night" and added a kiss emoji.
Soon after Lopez uploaded that picture, her followers took to the comment section to share their thoughts. One of them was Instagram user @laurardz28, who pointed out that the singer was an inspiration to many women for all the things she has accomplished.
LOPEZ BELIEVED SHE WAS TOO FAT
Even though she is one of the sexiest women nowadays, there was a time when she didn't embrace her natural curves and beauty, and she even used to think that she was fat.
Thankfully, she had two role models who knew how to deal with that situation: her mother and grandmother.
They would often tell them "this is how we are, and this is what's beautiful." All the men in her family also helped with her self-esteem process as they loved their partners' bodies.
SHE WAS TOLD TO LOSE A FEW POUNDS
Since most women in Hollywood are tall and skinny, Lopez was told that she had to lose weight to land some acting gigs. However, she got to the point that she accepted and embraced herself, and realized that there was nothing wrong with her body.
JENNIFER'S BEACH BODY
The singer spent her previous birthday – July 24 – at the beach with her family and boyfriend, former MLB player Alex Rodriguez. Of course, she took to social media to share the best tidbits of her day.
Lopez was rocking a two-piece black and white string bikini, silver hoop earrings and a huge straw hat to protect her face from the UV rays, as she laid on top of a striped white and blue towel.
Her toned legs and abs, a product of her hard work at the gym, was the highlight of the post, leaving those self-esteem issues in the past.
Please fill in your e-mail so we can share with you our top stories!