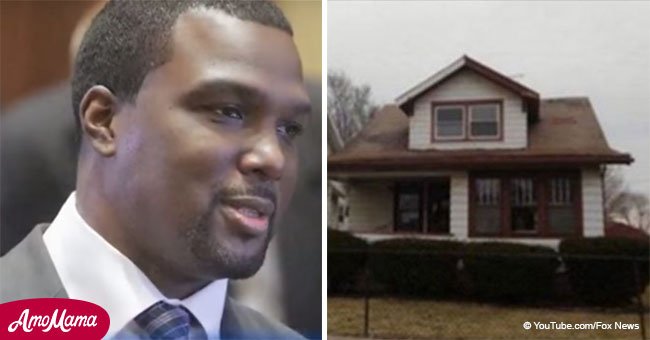 4 men brutally attack a pizza guy but quickly regret it

When four thugs attacked a man delivering pizza, they didn't know they were robbing a local state senator.
The attack happened on September 6, 2018, while Illinois State Senator Napoleon Harris, owner of Beggars Pizza franchises in Orland Park and Harvey, was making a delivery, as reported by Chicago Tribune.
It was closing time at the restaurant at 369 E. 147th St. in Harvey when one last call came in for pizza delivery, so Harris decided to do it himself.
When he arrived at the house in the 15800 block of Paulina Avenue, he encountered a man sitting on the porch. Then three other men came out from the bushes and attacked Harris. They struck him and tried putting him in a chokehold.
Follow us on our Twitter account @amomama_usa to learn more.
SELF-DEFENSE
But Harris—who formerly played linebacker for several National Football League teams and is 6-foot-3 and 250 pounds—was able to defend himself against the attackers.
The robbers succeeded in getting money from Harris' wallet, however. They also fled with the pizza in a Chevrolet Tahoe.
Harris quickly got in his car and followed the robbers until they abandoned the vehicle at a lumberyard in South Holland. He also called Harvey police to ask for help.
Police officers rushed to the lumberyard, where they discovered blood in the robbers' vehicle, which turned out to be registered to Lester "Roy" Jones, a man who had been reported missing in Georgia.
Based on forensic tests, traces of blood found on the vehicle was from Jones, who later turned up dead.
ARRESTS
Officials from the Illinois State Police coordinated with the police in Georgia. Authorities later arrested Malik Mayer and a juvenile upon their arrival in Georgia. Mayer has been charged with murder, kidnapping, aggravated assault, theft and two counts of financial transaction card fraud.
A third suspect, identified as Lawrence Hines, was arrested on September 15 after he checked himself into a mental hospital in Atlanta. Murder charges have been filed against him.
The fourth suspect remained at large, but police have received information that he was in Indiana.
Please fill in your e-mail so we can share with you our top stories!