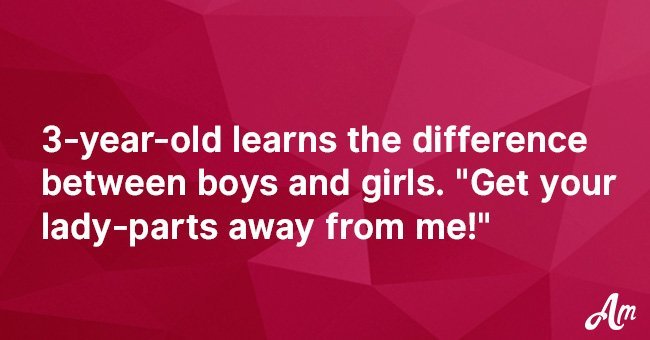 Toddler is quite confused by the difference between boys and girls

An inquisitive toddler got a lesson in human anatomy, and he wanted nothing to do with it.
A Reddit user known only as u/MessyBunn shared her experience on the parenting board of the popular website.
Read more on our Twitter account, @amomama_usa. She explained that her 3.5-year-old son wanted to join her in the shower.
Needless to say, it made for interesting conversation because he is now "at the age where he is noticing differences," and he had questions.
MessyBunn added that she and the toddler used to shower and bath together all the time before she gave birth to her second son.
With two boys under the age of four, she hardly has time for a decent bath or shower and gets "3 minutes showers twice a week" if she's lucky.
On this specific day, her son wanted to know why her penis had so much hair. She explained that as a woman she doesn't have a penis.
This still didn't make sense to him, and he wanted to if it was his dad's fault. Again, she confirmed she doesn't have a penis, and it's not his dad's fault.
She explained that women have vaginas and lady parts and that they are "born this way." MessyBunn went on to say:
"He thought about it a few moments before looking horrified and told me to get my lady parts away from him. Then jumped out of the shower."
She doubts that he would be joining her for a bath anytime soon. Other netizens soon chipped in and shared their own experiences.
A user known as Gatamosa said her toddler had the same questions. When she explained her anatomy, he asked incredulously: "So you only got a butt?"
Another mother said she knew the time for talks about body parts came knocking when her daughter said she had a "front butt" and "back butt."
When the mother explained that the "front butt" is called a vagina, the little girl ran around the house screaming: "I got a china!"
Discussing body parts and the birds and bees with toddlers could be a daunting task, but Baby Center suggests that parents keep their answers short and to the point.
Children will be curious about their genitals, and that is perfectly fine. When bombarded with questions, parents should be "direct and stay matter-of-fact."
Source: Reddit.
Please fill in your e-mail so we can share with you our top stories!