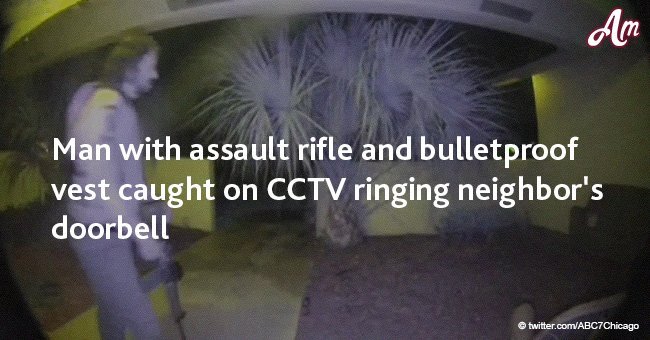 Man with assault rifle and bulletproof vest caught on CCTV ringing neighbor's doorbell
A strange man was recorded on camera when he walked up to his neighbor's home carrying an assault rifle while wearing a ballistic vest.
48-year-old Kevin Flaherty was arrested on September 6, 2018, and was charged with three counts of aggravated assault with a deadly weapon without intent to kill.
According to the police, Flaherty walked towards his neighbor's home in Boca Raton, Florida before 11 p.m.
The incident occurred the day before he was arrested.
Follow us on Twitter at AmoMama USA for more details and updates.
THE HOMEOWNERS WERE ALERTED
At the time, Lea D'Errico and her two children, 17-year-old Daniel and 12-year-old Sara, were inside the house.
They knew that Flaherty had arrived since they were alerted by the "ring" doorbell installed in their home.
It detects motions and captures everything on video, as explained by the police.
As Flaherty approached the door, Lea and the two kids hid in the bathroom. As for Lea's husband, Thomas D'Errico was on a business trip to San Diego.
Although, he was also alerted by the doorbell. As soon as he learned of what was going on, he called his son to inform him about Flaherty.
Both Thomas and Daniel called 911. Lea recalled how she feared for her life and also her children's lives.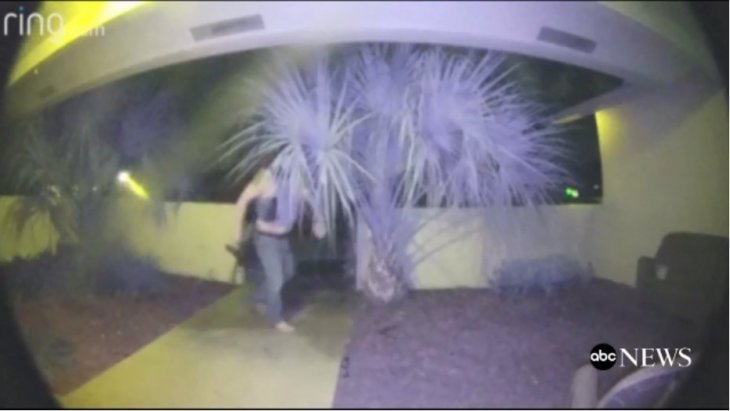 Source: ABC News
THE SURVEILLANCE FOOTAGE
As shown in the surveillance clip, Flaherty walked up to the home with his weapon and placed his hand on the camera.
Police revealed that Flaherty and the D'Errico family live 200 feet apart from each other.
THOMAS SAID THE POLICE FAILED
Speaking with ABC News, Thomas said it took 25 minutes for the police to arrive on the scene.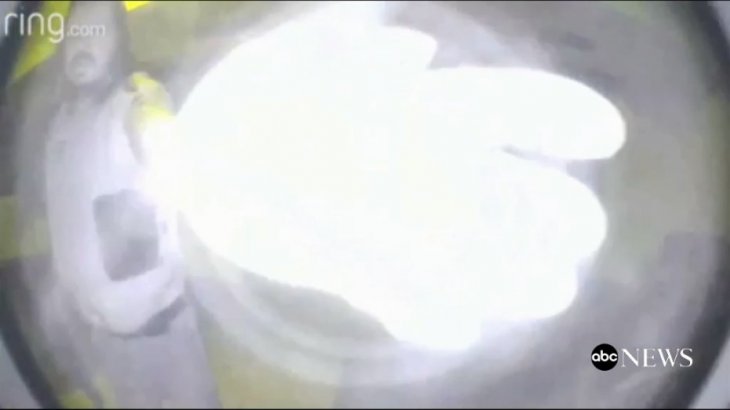 Source: ABC News
According to the police, no threat was committed, which meant there was nothing they could do.
As for Thomas, he said the police mishandled the entire incident.
"HE WAS STRANGE," EXPLAINED THOMAS
When asked what they thought was Flaherty's purpose during that night, Lea said, "I can't get into that mind, and I don't want to. My honest opinion, he came here looking to take out whoever he could and then get in a firefight with the police, because why else would he be wearing a bulletproof vest?"
Thomas shared that he and his family have been waiting until it's safe to come back to their home.
He said that he and Flaherty never had any altercations in the past, but he pointed out that his neighbor was having problems with his family.
"He was strange, and we always knew that. We tried to keep our distance," explained Thomas when he was asked about Flaherty.
In other news, a woman was caught on a CCTV camera stealing money from an elderly man.
The woman was reportedly stealing from a 94-year-old Navy veteran in Georgia named Thomas Hendrix.
Later on, the family checked the footage and found out that they didn't even know who the woman was.
Please fill in your e-mail so we can share with you our top stories!