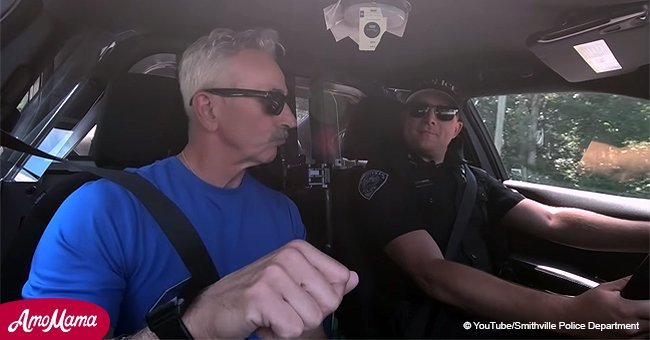 Aaron Tippin and John Anderson help police with lip-sync challenge and it's amazing
The police department of Smithville, Tennessee joined the bandwagon and made their own "lip sync challenge" video. They pulled out all the stops when they recruited country artists Aaron Tippin and John Anderson.
Police officers were joined by their much-known locals, Tippin and Anderson, for their video.
The lip sync challenge has become a viral hit on the internet and it the Smithville Police Department was not going to let themselves be overshadowed by others.
For the purpose of helping the community and relieving stress, the police officers filmed their eight-minute video.
Follow us on Twitter at AmoMama USA for more viral stories and videos.
Tippin was the first to appear as he sang along with the cops with their instruments in front of the police station. For the first song, they sang Tippin's 1992 song, "There Ain't Nothin' Wrong With the Radio."
As part of their script, Tippin was on a day off and was went to the police station to spend the day riding along with an on-duty officer.
When they got out of the station, the police was having trouble with his radio. When Tippin tried it out, it worked and eventually prompted the officers to sing Tippin's fitting song about a radio.
Later on, Tippin and the officer arrived at their designated place when Anderson appeared to be blocking traffic with his wooden porch swing, which made way for the introduction of his song, "Swingin'."
Anderson, who has been living in Smithville for 35 years, went on to perform his hit song with the officers.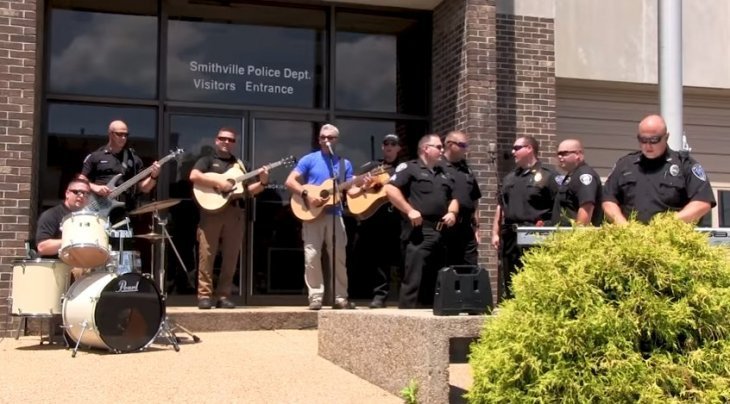 Source: YouTube
Speaking about the time they spent filming the video, Tippin
said
in a press release, "It was such a thrill to be asked to be in the Smithville Police Department's video."
"We had a blast filming it. We love our law enforcement and appreciate them so much. I'm ready to do a sequel!" he added.
As for Anderson, he said, "They do so much and don't often get recognized for their hard work and commitment to our community. I was proud to help out and hold up traffic on their behalf."
The Smithville Police Department, from the beginning, aimed to reach out to the community.
With their video gathering more and more views online, they have encouraged their viewers to help them by donating to their charity organization called Cops for Kids.
Meanwhile, in Paris, Texas, their fire department also made their version of the lip sync challenge.
The firefighters opted for a more versatile content, as they chose songs both from the top charts and from the classics.
At one point, they even poked fun at the police in their video, and one of them also rode a wrecking ball as he lip-synced Miley Cyrus's famous song, "Wrecking Ball."
Please fill in your e-mail so we can share with you our top stories!