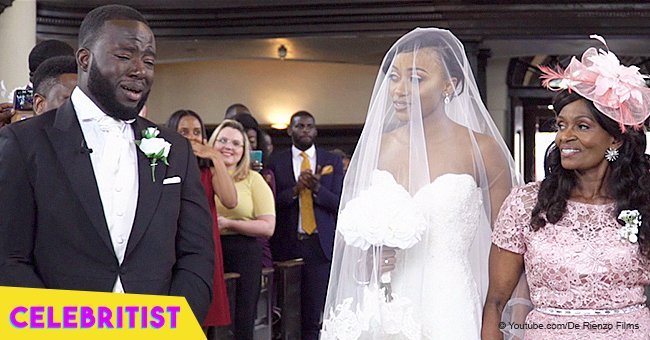 Groom breaks down in tears when he sees his beautiful bride in viral wedding video

This has got to be the most emotional bridal entrance ever. Gabriel Deku could not hide his emotions as his bride walked down the aisle towards him and he burst into tears.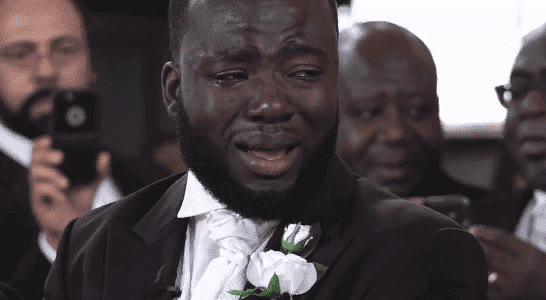 YouTube/De Rienzo Films
Annabella was led down the aisle to melodious music by her mother. She looked angelic in a white tube dress and a lace veil that trailed behind. The bride held on to her white bouquet as she counted the steps toward her soon-to-be husband.
Gabriel, on the other hand, fought to rein in his emotions from the moment he spotted his wife-to-be. His best man, rising to the occasion, stayed close and reassured him with several pats on the back.
"Stand up. This is your moment, man. You look at your wife, now. You look at her," he urged.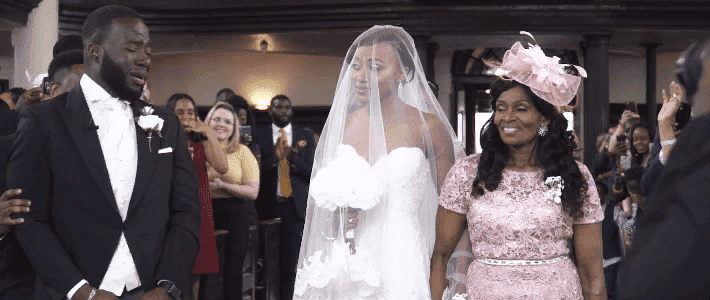 YouTube/De Rienzo Films
It didn't seem to help though as the emotional groom burst into tears as his wife drew near. He took the bridal party right along with him as the bridesmaids were filmed fighting back the tears.
Annabella also wore a solemn face as she looked ready to cry at any moment. Family and friends that gathered for the ceremony at St Martin-in-the-Fields cheered loudly at the moving scene.
Eventually, Gabriel turned to his bride, and the two shared a hug.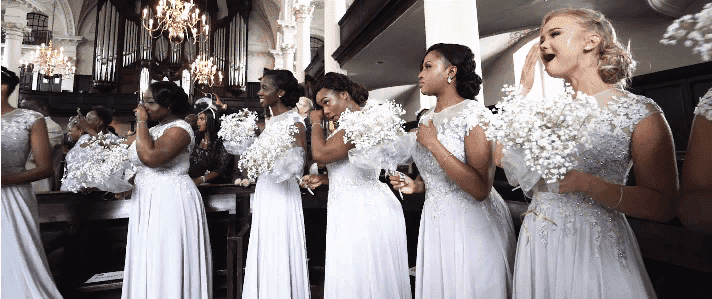 YouTube/De Rienzo Films
The wedding took place in Trafalgar Square, London and was captured on film by De Rienzo Films. As at this time, the video posted by De Rienzo on YouTube has over three million views and almost 2,000 comments.
Filmmaker, John De Rienzo, revealed that Gabriel had been emotional even before the ceremony commenced. It was then De Rienzo knew the wedding was going to be special. Summing up the experience, he said:
"We knew instantly that Gabriel and Annabella's wedding was going to be fun, emotional, and lively. It was extremely funny! The best man was incredibly funny [and] full of life as were all the guests. The dancing and atmosphere [that] evening was incredible. There was not one dull moment."
"This is true love that we believe will last a lifetime," he declared.
Check out Gabriel and Annabella's tearjerking entrance below:
ANOTHER EMOTIONAL WEDDING
In another heartwarming wedding video, new bride Andrea Middleton was given a touching surprise by her brother, Nick. Their father had recently passed away so, during the "Father-Daughter" dance, Nick played a special song and had Andrea dance to it with other members of the family. The whole room was in tears by the end of the dance.
Please fill in your e-mail so we can share with you our top stories!