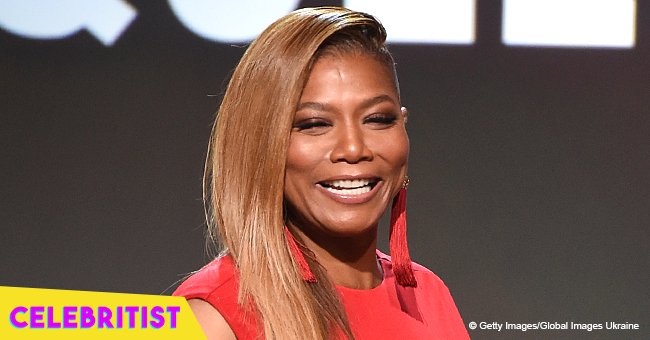 Queen Latifah steals the show in sparkling dress at 'Black Girls Rock!'
Actress and rapper Queen Latifah, best known for Star, took to Instagram to share a slideshow of the wonderful night she had at the Black Girls Rock event.
The first picture portrayed her wearing a loose, sparkling, black dress that had a V cut and long sleeves. Apart from her dress, her high ponytail also attracted a lot of attention.
Latifah was looking up to the ceiling of the theater as if she was thanking someone in heaven. In the second photo, the actress, who was the host of the event, wore a black and white suit that made her look beautiful.
In the third and fourth images, she appeared onstage wearing black pants and a long-sleeved black and a yellow hoodie that had words written on it.
As soon as Latifah uploaded that slideshow, her followers took to the comment section to share their thoughts. One of them was Instagram user @journeysoflattice, who admitted that the event was powerful and awesome to watch.
THE WOMEN AWARDED DURING THE NIGHT
As KWBE reported, the Black Girls Rock honored people like Lena Waithe, Naomi Campbell, Tarana Burke, Janet Jackson, and so on. Waithe got the Shot Caller Award and talked about the importance of the "Cosby Show" in her life.
Campbell was recognized with the Black Girl Magic Award, and she noted that it was a history-making season for black women who graced covers of many of the magazine issues in 2018.
LATIFAH'S SPEECH
One of the highlights of the event took place when Latifah got onstage with several women to talk about voting. She pointed out that while there are people who keep asking, "why?" some others asked, "why not?"
Latifah added that, by voting together, "we can move the needle of apathy." She finished by saying, "voting is the most important thing you can do. When we all vote, we make our voices heard."
LATIFAH'S OLDER BROTHER
Not everybody knows that Latifah had an older brother, Lancelot Jr., who was killed in a car crash in the '90s. His death caused Latifah to spiral out of control.
She started self-medicating with alcohol and drugs to ease the pain as she had bought him the motorcycle he was on when the accident happened. Thankfully, she started going to therapy and, with the help of her friends, family, and her faith in God, she overcame that addiction.
Please fill in your e-mail so we can share with you our top stories!