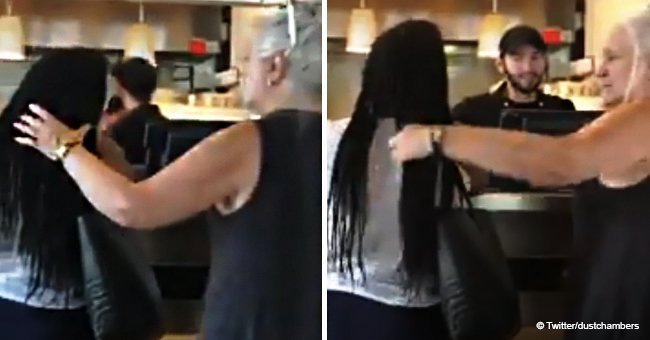 White woman almost caught the fade for touching a Black stranger's hair in viral video
The photographer realized something was about to go down in front of him, so he quickly whipped out his phone to record the video footage of it.
Dustin Chambers was in Little Azio's on Friday afternoon when he noticed a woman in front of him in the ordering queue seemed to be completely fascinated by the black woman in front of her's braids.
As the woman at the front ordered her food, the woman behind her suddenly reached out, and started feeling her hair, playing with the long braids and letting the strands run through her fingers.
The black woman immediately seemed to freeze, before turning to the woman and exchanging a few words with her.
Although the video sound is muffled and the conversation can't quite be made out, the woman somehow does not appear to have started shouting over the egregious personal space invasion.
Nevertheless, the white woman has clapped her hands over her mouth in shock, seemingly surprised at being called out for touching the complete stranger's hair.
Chambers later shared that the black woman's response had been: ""I'm being very friendly today but please don't touch my hair."
In the meantime, netizens took to Twitter to express their horror at the audacity of walking up to someone completely unknown to a person and just feeling like they have the right to touch their hair.
Others applauded the black woman's response, praising the amount of class she had in her reaction, where most others would have told the white woman her fortune.
Another Twitter user noticed the face of the cashier behind the counter, and commented on just how perfect his reaction was to the very awkward situation unfolding in front of him.
For future reference, it is not ok to walk up to complete strangers and touch their hair.
Please fill in your e-mail so we can share with you our top stories!