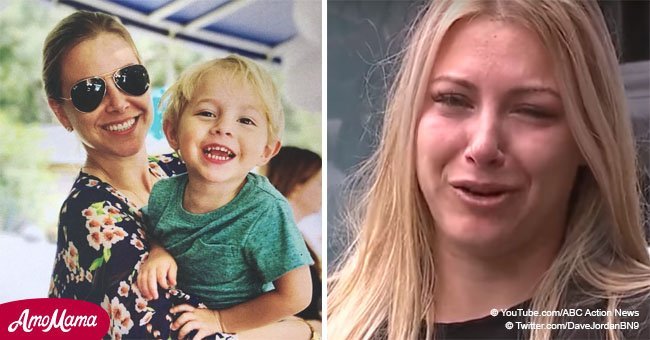 Devastated mother pleads for her son's safe return: 'I'll never stop looking for you'
A mother from Tampa, Florida has been desperate in seeking for help in the hopes of bringing back her son after the father took him to Lebanon without asking her first.
Supposedly, Dexter, who is three years old, was only going to spend the weekend with his father as per court order.
His mother, Rachelle Smith, was devastated when she found out that Dexter's father, US citizen Ali Salamey, had taken her son to Lebanon.
Reports revealed that Salamey went to the embassy and was able to get passports for himself and his son before heading straight to Beirut.
Follow us on Twitter at AmoMama USA for more details and updates.
An emotional Smith exclaimed, "I will never stop looking for you, I promise."
According to Dexter's mother, she had already suspected that her son was going to be transferred to Lebanon by his father. Thus, she appealed to the court.
Despite her efforts, Salamey was still granted permission to acquire passports through the Lebanese embassy.
Smith said, "I stated that I fear that Mr. Salamey will remove and hide our child. This fear was clearly valid. I am here to beg for any and all help to get my little boy returned."
As explained on ABC Action News, Lebanon does not acknowledge the U.S. extradition laws. Also, the country did not sign the Hague Convention Agreement, which is an international treaty to protect the people in such cases.
Technically, Smith does not have any power to bring back her son, which is why she had been pleading with the state department and the president for help.
Without the assistance of the government, Smith feared she might never see Dexter again.
Smith's party had contacted Senator Rubio and Senator Nelson for help.
On the other hand, Alex Stavrou, Salamey's attorney, expressed, "I would never have thought he would have taken any attempts to separate the child from his mother. Ali, quite frankly, lived for his son."
As of now, there are still no reports regarding Salamey and Dexter's whereabouts.
Meanwhile, it may be an uncomfortable subject, but it's important for the public to be informed about this.
Here's what one should do if they were kidnapped and were bound with zip ties.
An instructional video showed how to get out of the dangerous situation and escape restraint.
Please fill in your e-mail so we can share with you our top stories!