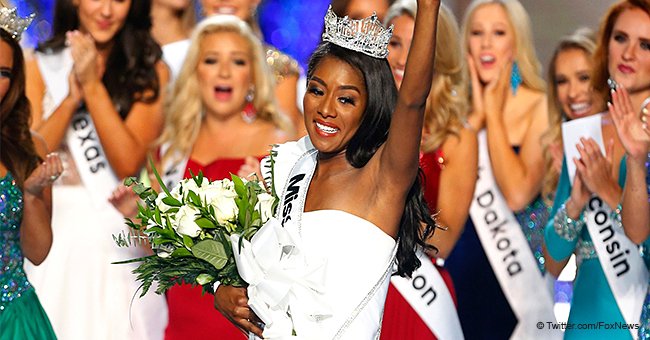 Miss America winner sparks outrage after it was revealed she's from North Carolina not New York
Newly crowned Miss America Nia Franklin represented the state of New York when she competed in the recent pageant. Fans now learn she's originally from North Carolina and only lived in New York for a year causing an outrage after her victory.
Nia Franklin may have won the Miss America crown but she seems to have lost her fans' admiration. Many were upset to learn she was actually a native of North Carolina and had only been living for a year in New York, the state she represented in the pageant.
The 25-year-old's short stay in the Big Apple is technically not an issue with the pageant which guidelines only specify a minimum residency of six months for a contestant to represent a state. Franklin moved to Clinton Hill in Brooklyn in June 2017 after moving from one apartment to another. She also boasted about having grit solidified by her stay in New York during her post-win interview with the New York Post.
"Even though I wasn't born in New York, I feel like I've always had grit. Moving to New York right after receiving my master's degree really solidified the grit I have."
Though Franklin's entry into the competition is legitimate, fans still expressed their dismay. Brooklyn hairstylist Jenna Pitocco said,
"If you are subletting you don't know the first thing about living in New York. You have only been here for like five minutes, you don't know [expletive]"
A Twitter user with the handle EarnestTony also said,
"This is a tourist saying she is Miss New York. She is from North Carolina and only been in NY for only a year. This is a scam."
On the other hand, Ramona Halloway from North Carolina proudly took credit for Franklin's win.
"Dear New York, you're welcome. Nia Franklin technically belongs to North Carolina, so we'll just take credit for molding the new #MissAmerica."
Despite the controversy surrounding her win, Franklin remains proud especially because she's the first winner of the pageant's first swimsuit-less competition. During her appearance on Good Morning America, she said,
"I'm a part of history. Miss America started off as a swimsuit competition, but I think it's important that we're evolving and I'm so excited to be a part of the new era."
Breaking a trend that's been ongoing for almost a hundred years, the 2019 pageant ditched the swimsuit and evening gown competitions and instead focused on contestants' ability to answer questions. With less pressure on physical appearance, judging was mostly based on passion, intelligence and the contestant's understanding of the role of Miss America.
Though the new format of Miss America gives more emphasis on mind and heart, the pageant's ratings dropped. From an all-time record low last year, the competition showed a 36% drop. It came in fourth place in the ratings game with 4.3 million viewers as it went up against NBC's "Sunday Night Football."
Franklin bested 50 other women who competed last weekend in the competition making her the 7th New Yorker to walk away with the crown.
Please fill in your e-mail so we can share with you our top stories!