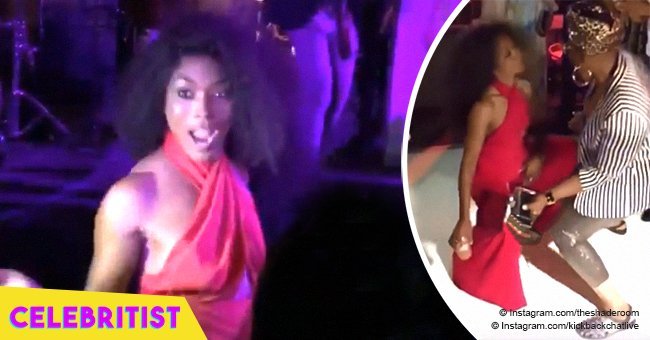 Angela Bassett steals the spotlight with fiery dance moves on her 60th birthday

Angela Bassett, the actress best known for "What's Love Got to Do with It," threw a lavish 60th birthday wherein she showed off her wonderful dance skills.
The Shade Room shared a video that showed Bassett wearing a sleeveless red jumpsuit that had a crossed design on her chest. While her outfit and her dark curly hair were important aspects of the clip, her dance moves were the highlight.
Even though she is 60 years old, she appeared in front of a friend dancing to A$AP's "Plain Jane." Apart from moving her arms, legs, and head, she danced all the way down to the floor.
The crowd around her was clapping and cheering clearly enjoying Angela's smooth and sexy moves.
At some point during the clip, she laid back while placing her arms in the air and waving them back and forth following the music's rhythm.
When that clip hit the Internet, people from all over the world encouraged Bassett to keep dancing and living her best life no matter her age.
SHE TOOK A WHILE TO THROW THE PARTY
Even though Bassett turned 60 on August 16, her schedule was full, so she couldn't celebrate her birthday properly. Consequently, she waited two weeks before doing it in such an incredible way.
Apart from that, several celebrities attended the party, including Tina Lawson and Snoop Dogg.
BASSETT SHOWING OFF HER STRONG PHYSIQUE
That party took place a couple of weeks after the actress uploaded a photo to her Instagram account wearing a two-piece multicolored swimsuit. The most striking aspect of it was that, at the age of 60, her body looked slim and fit.
HER SECRET
In an interview she had with Laila Muhammad, Bassett revealed three things she does to be as healthy and as fit as she is.
The first thing she named was to have a good esthetician as they help her face look as good as possible all the time.
Apart from that, Bassett said that eating healthy was very important because people could easily out-eat any exercise routine.
Later, she shared some details of her diet, including how many times a week she eats carbs, protein, fruits, and so on.
Finally, Bassett revealed that having a good exercise routine was very helpful, especially because she has to pay for it, so she is forced to show up unless she wanted to lose her money.
Please fill in your e-mail so we can share with you our top stories!