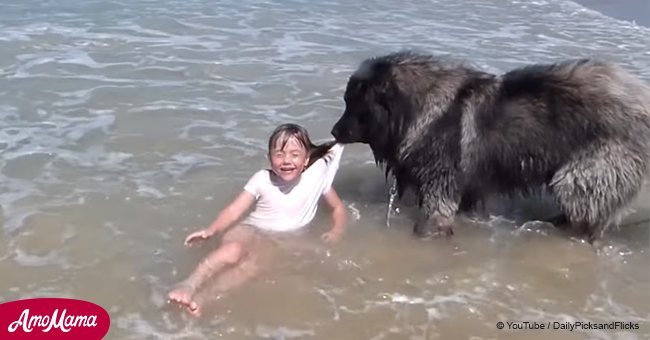 Hilarious moment dog rescues girl in the sea after assuming she's in trouble

Dog insists on "saving" little girl playing on the beach
Keeping children safe on the beach during the Summer holidays is always a challenge. Little ones love to run into the waves and play in the water, and parents need to keep a close watch on the tots.
Adults know what a challenge active children can be, but one little girl's grandparent can rest easy knowing there is an extra pair of eyes on the child.
A dog called Matyas was enjoying a day at the beach with his family at Gouville- sur -Mer, France, when something happened that would make him a media star.
The incident was filmed and posted on Youtube and has delighted viewers all over the world.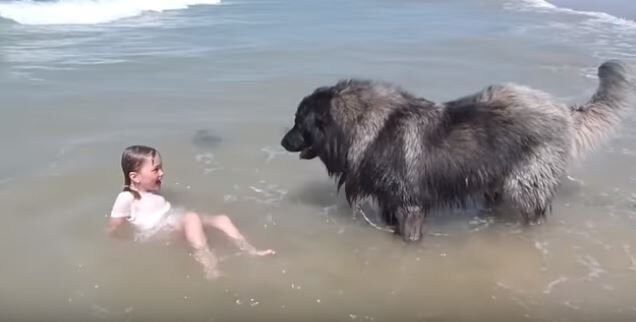 Source: Youtube Screenshot
'Nice to have such a smart dog around... he watches that little girl better than many adults would.'
A furry hero leaps to the rescue
Matyas' owner's granddaughter who appears to be around 5 years old, was playing happily in the breakers when one wave swept over the little girl and rolled her off her feet.
Matyas lept to the rescue and grabbing the little one by her t-shirt proceeded to drag her out of the surf, and out of reach of the breakers, much to the child's amusement.
Read more heartwarming stories on our Twitter account @amomama_usa.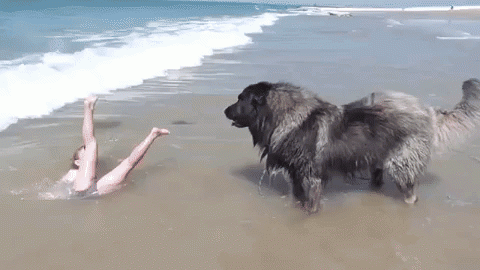 Source: Youtube Screenshot
The furry rescuer became a media star
The "rescue" was captured on video by Matyas' owner and posted on Youtube, where it quickly went viral. People were captivated by the joyous peals of laughter the child let out while being "rescued" by her furry friend.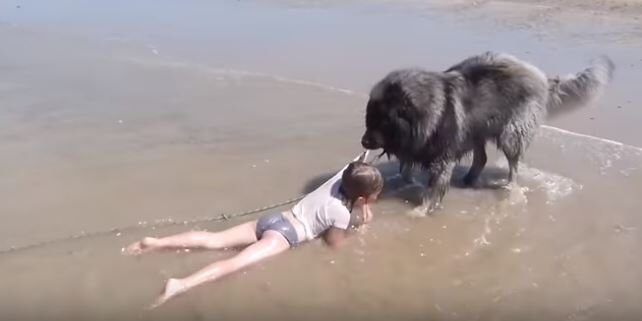 Source: Youtube Screenshot
More than a million fans liked the video!
So far the video has been viewed by more than a million people, with hundreds commenting on the dog's behavior.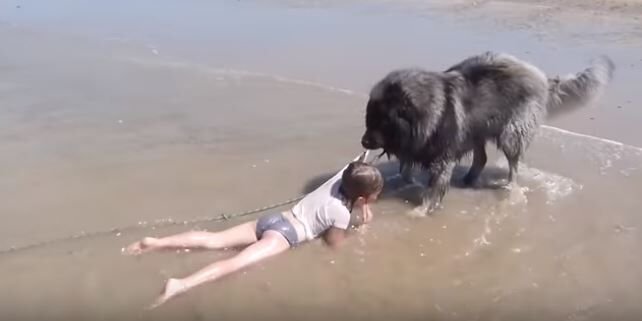 Source: Youtube screenshot
Nobody knows what Matthias' breed is
Fans and commentators are now involved in a heated debate trying to ascertain what Matyas' breed might be, with guesses ranging from a Sarplaninac, a Leonberger, a Keeshond, to a Newfoundland dog.
Another water rescue by a courageous dog
There are many stories of man's best friend leaping to the rescue, and saving people.
A stray dog named Naida saved four-year-old Andrei Pavlov who he fell through the ice into the freezing water of a pond when he was feeding ducks near his home in Krasnoyarsk, Russia.
Naida started to bark and alerted people working nearby who helped her pull Andrei out of the freezing water.
Thanks to Naida, Andrei's life was saved and he spent a few days in the hospital recovering. Naida was adopted by a loving family and went from a stray to a hero with a forever home.
If you enjoyed this story read the article below:
Police dog saves partner's life after ambush attack in the woods
Please fill in your e-mail so we can share with you our top stories!