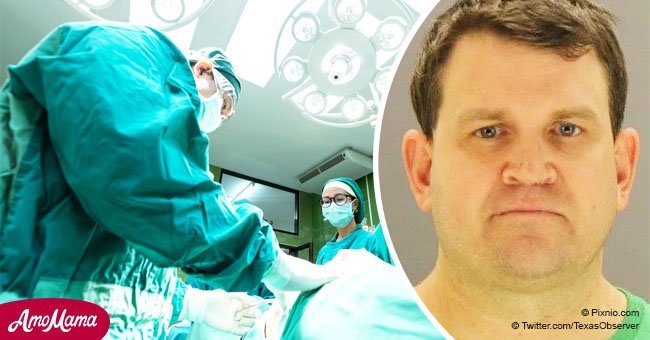 Dr. Death: New horror stories revealed of the surgeon who intentionally maimed his patients

Neurosurgeon Christopher Duntsch who maimed 32 patients described as "serial killer"
When a person in pain goes to a doctor the last thing they expect is that their physician will do them harm.
For 32 ofneurosurgeon Christopher Duntsch's patients, the search for healing ended in disaster.
The man in whose hands they placed their trust didn't just fail to aid them, he deliberately botched their surgeries and left them maimed for life, and his story was chronicled in a hit Podcast entitled "Dr.Death".
"I am ready to leave the love and kindness and goodness and patience that I mix with everything else that I am and become a cold blooded killer."
Christopher Duntsch, Court Transcripts, February 2017.
He Promised Them An End To Crippling Back Pain
Mary Efurd and 32 other patients sought out Dr. Duntsch who had placed TV adverts claiming to be the best neurosurgeon in Dallas and promising to "give you the spine surgery that would take your pain away".
It was to be the worse decision of their lives. Some of his patients were left paralyzed and wheelchair bound after their operations, and two of them died shortly after surgery.
Instead, the 47-year-old intentionally botched his patents' surgery. Two of his patients died shortly after operations, while others were left paralysed and wheelchair-bound.
Read more human interest stories on our Twitter account @amomama_usa.
Survivors Describe Him As "Monster", "Psychopath" and "Killer"
In 2012 Mary Efurd was 74-years-old and afflicted with debilitating back pain. Like so many others she was taken in by Duntsch's confident charm and booked herself into surgery.
Efurd woke after the operation screaming in pain, and she realized she couldn't move her legs. Since undergoing the procedure at Duntsch's hands, she is confined to a wheelchair.
Malpractice Or Malignancy?
She soon realized she could no longer move her legs. Going under Duntsch's knife in 2012 ruined her life and she has been confined to a wheelchair ever since.
In the course of the operation, Duntsch had drilled into her muscle instead of her bone, sliced into one nerve at the root of her spine, and deliberately twisted a metal screw into another.
Paralysed For Life By A Slip Of The Butcher's Knife
Like Mary Efurd, Jeff Cheney suffered from chronic back pain, and he underwent a surgical procedure to ease his condition.
Duntsch was his surgeon, and the unfortunate man woke from an operation to find the entire right side of his body paralyzed.
Duntsch had removed part of his spinal cord by "mistake", paralyzing the entire right side of his body.
He Mistook Her Esophagus For A Tumor
Just like Jeff Cheney, Jackie Troy woke from her surgery to discover her life was irrevocably changed.
She was unable to talk since Duntsch mistook her esophagus for a tumor and sliced into it, effectively paralyzing her vocal chords.
Guilty As Charged
Duntsch was sentenced to life in prison in February 2017 for maiming his patients, and for the deaths of Kellie Martin who died of massive blood loss, and of Floella Brown, who had a stoke when the killer surgeon cut into her vertebral artery.
It is the first time in Dallas judicial history that a doctor has been convicted for surgical malpractice, which the prosecution proved to be deliberate and malicious in intent.
"Dr. Death" Podcast Reveals Frightening Mindset
The "Dr. Death" podcast, a six-part investigation by journalist Laura Beil, delves into the history and character of the convicted surgeon, who once declared that he was ready to become a serial killer.
"Dr. Death" was made and produced by Wondery, the creators of "Dirty John," a podcast focusing on true-crime in Los Angeles.
Another Killer Doctor
In 1999, an English general practitioner called Harold Frederick Shipman was revealed to be one of the most prolific serial killers of all time.
After a long trial, a jury found Shipman guilty on 15 counts of murder and he was sentenced to life imprisoned without the possibility of parole.
Like Duntsch, Shipman preyed on his patients. Although he was tried and convicted for only 15 murderers, investigators identified 218 victims.
Most of Shipman's victims were elderly women, but his youngest confirmed victim was a 41-year-old man. Investigators were unable to substantiate suspicions that Shipman might have killed several children, some as young as 4.
A story about a forensic pathologist gives a different view on the medical profession.
While being interrogated about her findings in the autopsy of a little girl murdered and raped by the accused, the doctor broke into tears on the stand and had to be excused.
Please fill in your e-mail so we can share with you our top stories!