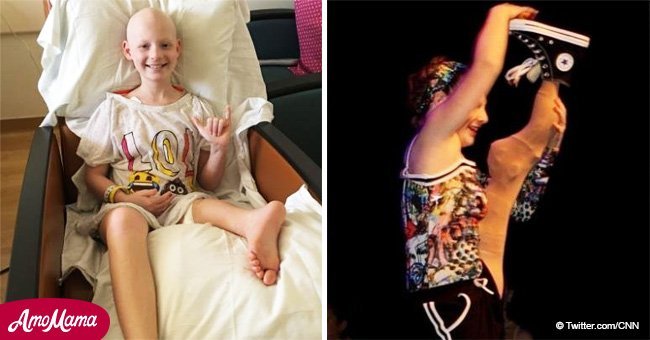 Young cancer survivor able to dance after doctors reattached her leg the wrong way around
Life changed for Melissa Unger and her family in December 2016 when she received a phone call. Melissa was told by a doctor that her daughter Delaney who was a dedicated dancer since the age of three, had a mass on her femur.
Delaney from Selden, New York, was diagnosed with a case of osteosarcoma which is an aggressive cancer that required chemotherapy and the amputation of her left knee.
It seemed to her that her future as a dancer would be over.
In April 2017 she underwent a rotationplasty. In this rare form of surgery Doctors amputated a small portion of her thigh and all of her knee. Her ankle and foot were rotated 180 degrees and attached to the stump of her thigh.
"When I first heard what my options were for surgery, I knew that rotationplasty would be the best choice for me. I am a very active person. I have been dancing since I was three. This option seemed to be the one to give me the most mobility, flexibility and allow me to live the high-impact life I was used to. Through social media, I was able to connect with others who had rotationplasty, and I could see the effects of the surgery firsthand."
Delaney Unger, Newsday, September 10, 2018
In October 2017 she received a prosthesis which allows her to walk, jump and dance. It fits over the backward-oriented foot and extends up the thigh.
Delaney now attends dance classes five days a week and does not want anyone who is going through something similar to give up their personality.
She says she hopes that any children going through something similar to her don't 'give up [their] personality'.
"Stay strong and don't give up because there's always this light at the end. You're going to go back to normal at the end of this anyway so stay as normal as you can all throughout."
Very similar to Delaney's story is the story of Gabi Shull. Like Delaney, Gabi is a dancer who uses a prosthetic . Like Delaney's story hers is also a case of rotationplasty to treat osteosarcoma.
As both girls move ahead in pursing their dreams we wish they all the best.
Please fill in your e-mail so we can share with you our top stories!