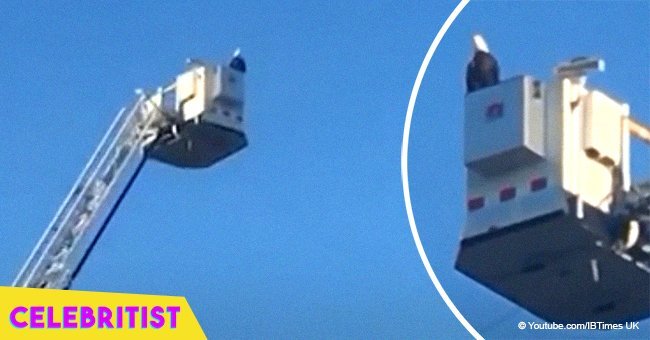 Wild bald eagle lands on fire department's truck during 9/11 ceremony in viral video

Something phenomenal has occurred during a 9/11 ceremony and its video has now gone viral. A bald eagle was spotted perched on a fire truck which happened to be suspending an American flag.
An eagle has landed according to a video that has now gone viral as it features a bald eagle atop a Minnesota fire truck during a 9/11 ceremony.
In the footage, the eagle was sitting at the end of an aerial fire truck bearing an American flag along a highway in the northern Minneapolis suburb of Coon Rapids.
The symbolic occurrence caught on video and shared by Andover Fire Chief Jerry Streich was described as "phenomenal" and has been viewed more than two million times. Streich, who could be heard repeatedly uttering the word "unbelievable" during the clip said in an interview with KARE-TV,
"There's no better symbol to represent America today than a flag but then for an eagle to land on a fire truck holding a flag, I mean, it doesn't get much more symbolic than that."
Two aerial fire trucks were parked on an overpass that day suspending American flags between their ladders as a tribute to the victims and first respondents of the 9/11 attacks. On one of the trucks' ladders, the national bird landed, paused for a moment, then flew away.
"Look what landed on top of the aerial on 9/11", Streich says on the video. "Isn't that unbelievable? This eagle just landed in the aerial while we're doing the 9/11 memorial. Phenomenal."
Meanwhile, in Pennsylvania, President Donald Trump paid tribute to those lost on 9/11 and especially honored passengers who attempted to stop hijackers on board the plane.
"They attacked the enemy. They fought until the very end. And they stopped the forces of terror and defeated this wicked, horrible, evil plan," he said during his speech on the Pennsylvania field where United Flight 93 crashed on September 11, 2001. As he praised the US military, he also vowed to protect the country from what he deemed as "radical Islamic terrorism."
Please fill in your e-mail so we can share with you our top stories!