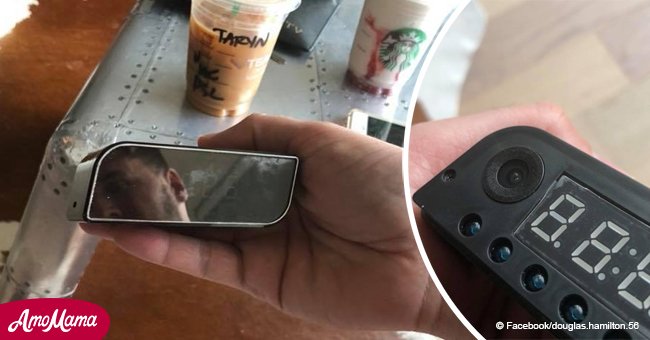 Couple almost became 'movie stars' before finding a hidden camera in their Airbnb room

Dougie Hamilton and his girlfriend were horrified to discover a hidden camera in their Airbnb room in Toronto.
In a Facebook post, Hamilton shared how he became suspicious seeing a digital camera on the wall facing the living room.
The couple had booked the apartment, located in the center of Toronto, for a one-night stay on September 6, 2018.
They had a busy and tiring day around the city and were looking forward to a relaxing time in the apartment. Follow us on our Twitter account @amomama_usa to learn more.
"I was laying on the couch and this digital clock is facing into the living area and open plan bedroom (no doors)! Left with my thoughts, that video pops into my head, 'imagine if it was the spy camera in the clock'," he wrote in his post on September 7, 2018.
NAGGING FEELING
Hamilton said he couldn't shake off the thought for five to 10 minutes. A few weeks ago, he had seen a video on Facebook about how tiny cameras can be installed in things like pens, teddy bear's eyes, clocks, and buttons.
He thought he might be too paranoid but later decided to give in to the nagging thought. He took the clock off the wall and pried it open to see what's inside. All the while he was ignoring his girlfriend who wondered what he was doing with the clock.
"I am on the verge of what could be the biggest discovery of all time or the demise of my mental state. So there is a lot on the line," he wrote.
After unplugging the clock, he slid the front face off it and saw a camera lens!
MAKING OTHERS MORE CAUTIOUS
Hamilton said he was sharing his experience to make people more cautious when booking Airbnb rooms or apartments.
In an interview with The Daily Record, Hamilton explained more about the incident.
"The hidden camera was facing into the living area and open-plan bedroom, so it could see everything. We didn't know if the owner had been watching," he said.
"It just felt really creepy and we didn't want to stay. "We're innocent-minded people but the clock was facing where our bed was and we thought it might be for something more sinister like a sex ring," he continued.
He reported the incident to the police and also made a complaint with Airbnb, which assured them of a refund.
Please fill in your e-mail so we can share with you our top stories!