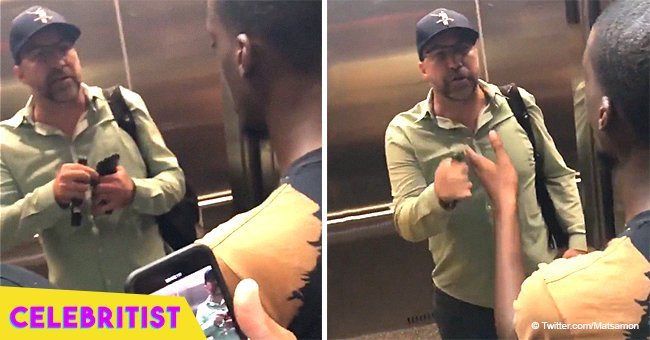 White man points gun at group of students trying to take an elevator in viral video

Four predominantly black students visiting a friend at an upscale complex were denied entry by a white man who pulled out a gun on them. The incident was caught on video.
On Friday, four students from Florida Agricultural and Mechanical University, three of whom were black, were scheduled to visit a friend when they were met with hostility at their friend's apartment at the Stadium Centre in Gaines Street.
According to the students and based on video footage, a white man identified as Don Crandall who lived in the building refused them entry into the upscale complex. The situation turned for the worse when upon arguing with the man, he pulled out a gun on them.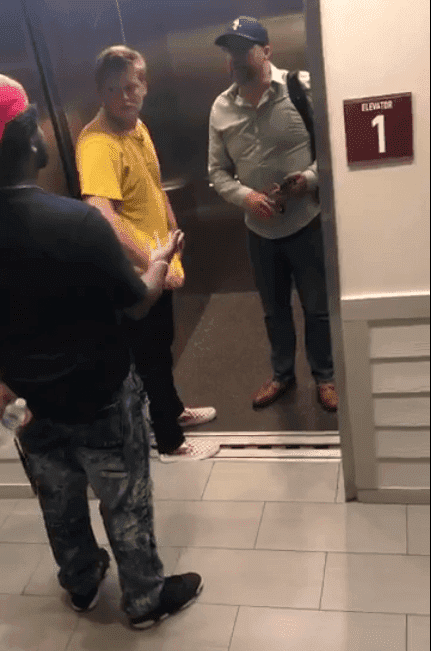 Source: Twitter
The incident started when Crandall who encountered them at the entrance told them they weren't getting into the complex unless they were residents. The students explained they were there to visit a friend who lived there. At that point, another white man, Chad, intervened and assisted the students in getting into the building. However, after the students entered the building, Crandall prohibited them from using the elevator claiming it was his.
"You don't belong in this building," he said.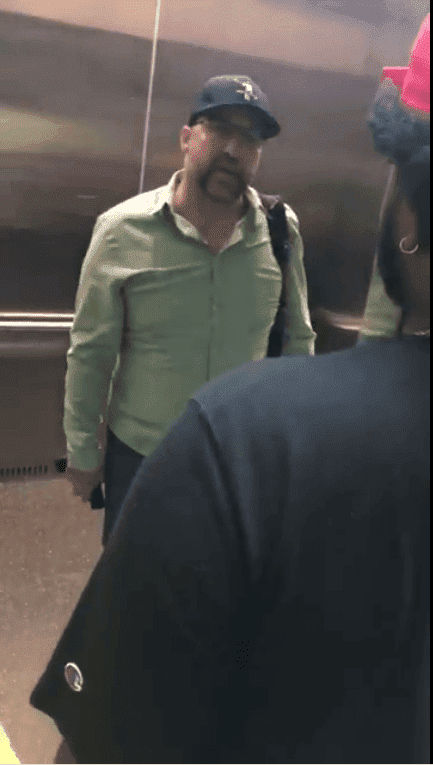 Source: Twitter
Meanwhile, Chad tried to pacify the situation by claiming the students were his guests. But Crandall used his body to block the students who were moving to get into the elevator. It was then that he pulled out his gun on them.
Stephen Brooks, one of the students said,
"Sir are you bringing out your gun, what is your purpose for that?"
Fearing for what may happen, the students stepped away from the elevator. Shortly after, the friend they were visiting, Zayvion Flowers appeared and brought them up to his apartment.
Following the strange encounter, one of the students, Isaiah Thomas uploaded a video of the man waving his gun at them on Twitter and wrote,
"These are the kind of people burning Nike products. We are sick of the discrimination. Never thought I'd have a personal experience with racism like this. This man pulled a gun on us because we were walking up to my friend's apartment without a key."
He also said he did not call the police because "that would have just been another black man dead."
The video which has now gone viral drew a lot of attention with one of the residents in the complex, Annie Moore claiming there were many racists in the building.
"This is my apartment complex. It's so many racists here. I was taking a snap and noticed a whole Confederate and Trump flag hanging from my neighbor's balcony."
Crandall, a hotel manager, was fired after his employers at the Baymont by Wyndham near the complex where he lives learned of the incident. Pax Hotel Group, the company that manages the hotel Crandall worked for released a statement saying he was no longer in the company and that they do not condone Crandall's actions.
"Pax Hotel Group believes in bringing up and adding to the communities we are a part of. Our team has gone ahead and took the actions that were necessary to uphold our beliefs. Pax Hotel Group does not stand behind the actions of our former General Manager."
"One of Pax Hotel Group's Core Values is to treat others the way you would like to be treated. While at work or out in our every day lives we expect our employees to have this core value in mind, we would like to apologize to those affected by the actions of our former employee."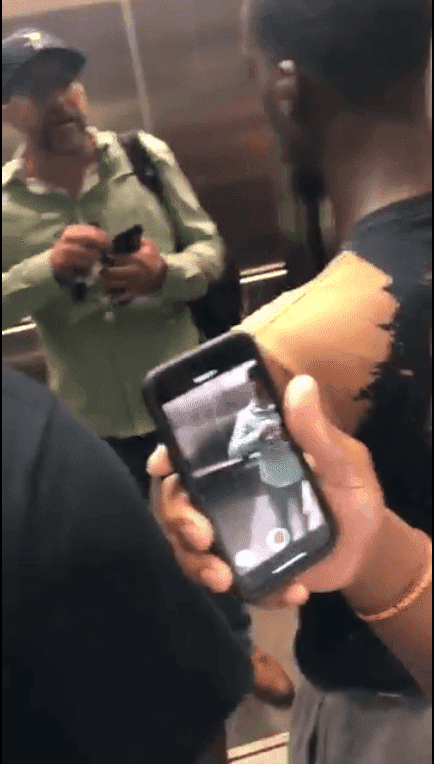 Source: Twitter
The Tallahassee Police Department is currently investigating the matter and no arrests have been made as of Tuesday.
Crandall's hotel may not be one with him on his unjust treatment of the students but a billionaire in Florida claims another hotel in Palm Beach refused him entry because he was black. Black Entertainment Television co-founder Bob Johnson known as the first black billionaire accused Eau Palm Beach hotel of racial profiling after he was asked to remove his sunglasses upon checking in. Refusing to do so, Johnson was denied check-in. He then requested for police assistance but after talking it out with the authorities, no compromise was made which prompted him to leave the hotel.
A hotel spokesperson later said the removal of sunglasses is a standard procedure for all their guests for identification purposes. However, Johnson, who has purchased 165 hotels insists that policy may be true abroad but not in the US and deems the incident a case of racial profiling.
Please fill in your e-mail so we can share with you our top stories!