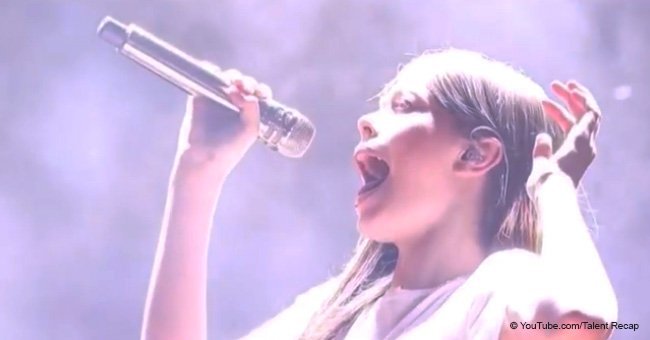 Shy schoolgirl, 14, earns a standing ovation from Simon Cowell for her incredible performance
After an audition that absolutely stunned both the judges and the audience for the complete turnaround in her personality as she started to sing, her semi-final performance earned her another standing ovation.
13-year-old Courtney Hadwin went viral after her audition for "America's Got Talent" was released, in which the seemingly shy British teenager took on a whole new persona the moment her music started playing.
But while most would expect a teenager to channel her inner Taylor Swift or Arianna Grande, Hadwin opted for Otis Redding's "Hard To Handle," a hard rock song that she, well, rocked appropriately.
Howie Mandel was so impressed by her incredible performance that he buzzed her straight through to the voting rounds.
Now, months later, Hadwin has performed in the semifinals, and offered up another incredible and unique performance.
This time she opted for Steppenwolf's "Born To Be Wild," rocking the stage the same way she did the first time she stepped out onto it.
By the end of her performance, the judges and audience were all on their feet, and Simon Cowell was so excited by her rendition of the song that he ran over to hug Mandell for buzzing her straight through.
"You're a bundle of excitement and it's raw and messy. I saw you at the beginning of the show, shaking like a leaf and then you come out on stage and turn into a maniac," Cowell said. "That's why I absolutely love you."
Mandell also had nothing but praise for the teenager.
"You were born to be wild! This was wild! You were amazing. My prediction is you're going to be the winner."
Heidi Klum praised Hadwin for her unique style, enjoying the fact that she had strayed from the norm that girls her age tend to stick to of pop songs.
But Mel B had just one negative comment for Hadwin over her performance, and that was that the former Spice Girl could "feel her nerves," something she wasn't used to.
Hadwin told host Tyra Banks that she was disbelief that she had made it so far in the competition.
Please fill in your e-mail so we can share with you our top stories!