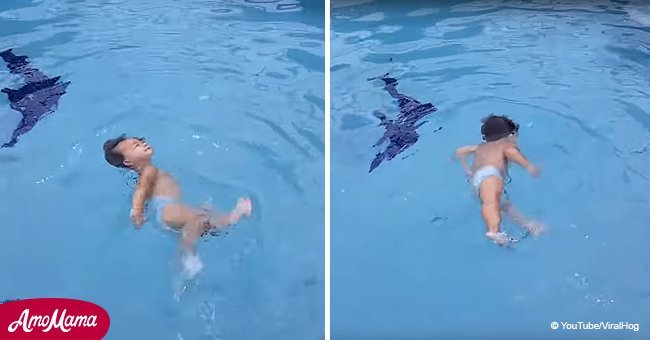 1-year-old girl swims in a pool all by herself

Adorable water-baby is completely at home in her family's pool.
Kassia Fanelli is just one year old, but she swims and dives like a pro.
Her mother, Grace Fanelli, wanted her children to learn how to swim from an early age to make sure they could handle themselves in the water. Her primary concern is their safety, especially in Florida, the Sunshine state where pools abound.
Her determination had her start teaching her two children to swim when they reached 9 months of age.
As a result, Kassia is a proficient swimmer and a video of her exploits was posted on Youtube by ViralHog on September 10, 2018, and has already garnered over 100,000 views.
"Drowning is the number one leading cause of injury-related deaths in infants and children under the age of five. They can start learning how to swim as young as six months of age"
THE LITTLEST MERMAID
In the video, Kassia pushes off from the side of the pool and takes to the water like a fish, looking perfectly at ease and swimming without the help of her parents.
Kessia can swim back-stoke, front crawl and spins comfortably through the water, immersing her head without any signs of distress or discomfort.
AN ESSENTIAL SURVIVAL SKILL FOR TOTS
Kassia's big sister is now 3, and she too is a good swimmer, Grace made sure of that.
Grace took her daughters to a swim instructor who specializes in infant and child survival swimming, and by Kassia's ease in the water, the lessons paid off.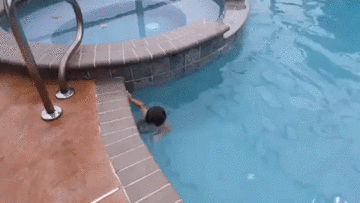 Source: Facebook/Unilad
AN APPEAL TO PARENTS TO TEACH CHILDREN TO SWIM
Grace explained that statistically drowning is the number one leading cause of injury-related deaths in infants and children under the age of five.
She believes that if children can swim, they will be able to stay afloat until an adult can rescue them.
Kassia not only swims confidently and swims alone across the shallow end of the pool, she also gets out of the water by herself.
FRIGHTENING StATISTICS SHOW CHILDREN MAJOR VICTIMS
According to the CDC, an average of 3,500 fatal unintentional drownings occur annually in the United States, which means that there are ten deaths per day.
Additionally, over 300 people die each year from drowning in boating-related incidents.
Statistics reveal that 1 in every 5 drowning victims is a child under 14 years of age, which means that there are on average 700 child-drownings in the USA alone each year.
For every child who dies from drowning, another five receive emergency care for nonfatal submersion injuries - a whopping 3,500 children every year - and of these, 50% require hospitalization or prolonged care.
Tragically, the nonfatal drowning injuries often cause severe brain damage that may result in long-term disabilities or leave the victim in a permanent vegetative state.
In a related story, a three-year-old boy nearly died when his floatation ring flipped over in the pool and left him dangling head down in the water with his feet in the air for over a minute.
Please fill in your e-mail so we can share with you our top stories!